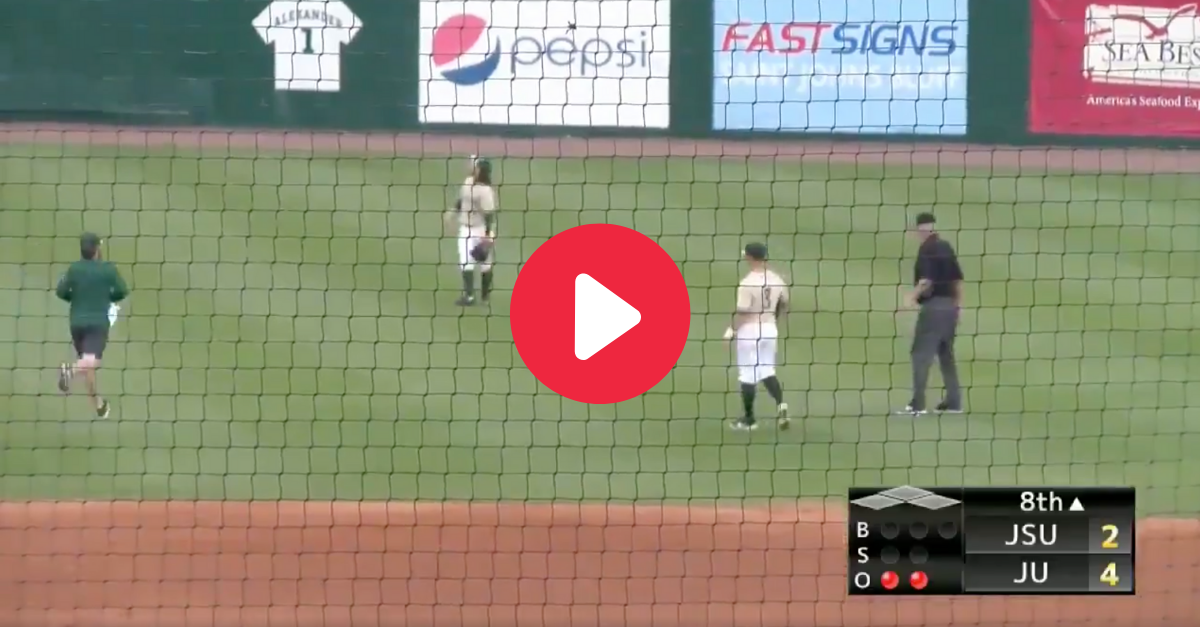 Twitter: NCAACWS
Florida is a weird state. The Sunshine State is more than just palm trees and sunny beaches. It?s where billionaire sports team owners are charged in prostitution stings and famous golfers are arrested for driving under the influence of multiple drugs, and that?s just in one city.
It should suffice to say that a story including the words ?bald eagle?, ?osprey?, ?fish? and ?baseball game? should tell you that this, naturally, took place in Florida.
Here?s what happened:
Jacksonville State University?s baseball team was up to bat in the top of the eighth inning. They were down 4-2 in the second game of a three-game series against Jacksonville University back in 2019.
With two outs, players stopped in amusement that a fish ? yes, a fish ? fell from the sky into John Sessions Stadium. An osprey above the field had apparently committed a costly error when a pursuing, large bald eagle threatened the bird.
To make things even weirder, a Dolphin (relax, I?m talking about a JU Dolphin ? outfielder Connor Stephens) went out behind second base to retrieve the fish. And because this is the 21st century, there is video of the osprey-eagle fight and possibly the first fish delay in baseball history.
Bird Fight Invades Baseball Game
RELATED: Meet Georgia?s Flame-Throwing Ace, And Potential No. 1 Draft Pick
A few things to analyze here.
First, I?m highly surprised that JSU didn?t come back after this whole episode. #RallyFish would?ve been an epic hashtag next to the iconic #RallySquirrel that propelled the St. Louis Cardinals to their 2011 World Series Championship or the #RallyPossums that captured the hearts of Cleveland Browns and LSU baseball fans.
I mean, what are the odds that a rally fish ever happens again? Opportunity missed.
Also, I?m going to assume the play was officially scored an error on the osprey, which actually makes sense considering the Ospreys are the University of North Florida?s mascot, a team JU plays.
Lastly, why was Stephens so eager to pick up that fish? He essentially puts a target on his back for both birds. Maybe he was thinking about what to eat for dinner. But more importantly, what type of fish is it? Details matter!
ESPN's Kenny Mayne knows what I?m talking about.
To be fair, you can?t prepare for this type of thing if you?re a play-by-play caller. Then again, it is Florida.
This article was originally published February 26, 2019. It's still very, very strange.