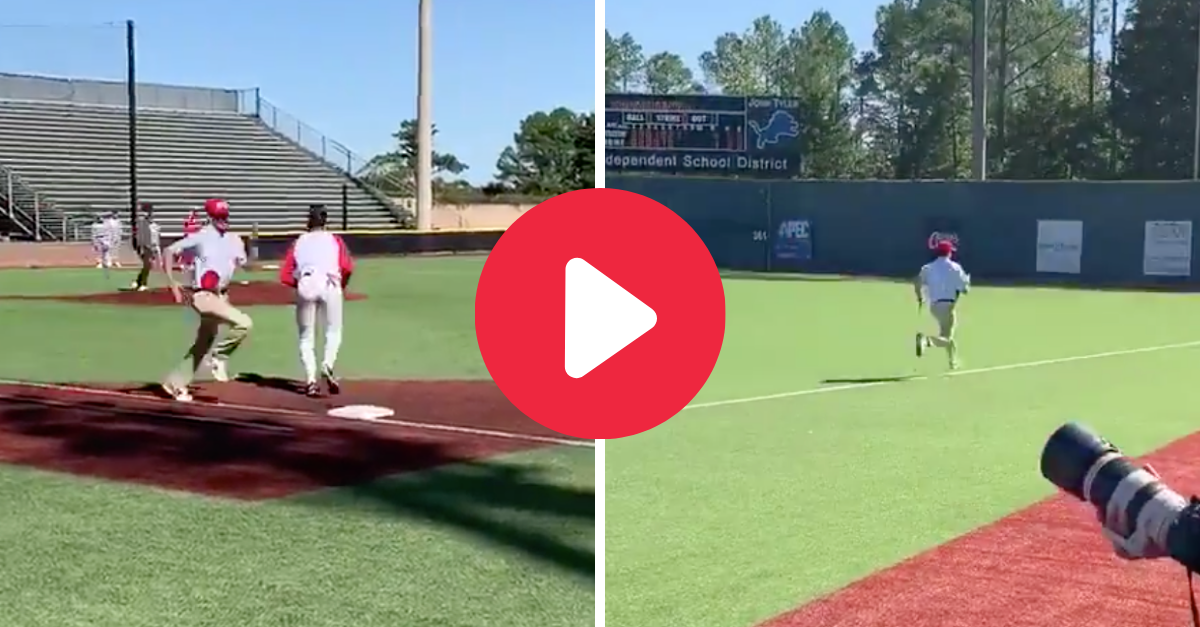 Screenshot from Twitter
Forrest Gump is one of those movies that stands the test of time. The 1994 hilarious flick produced countless memorable lines and scenes, so it's no wonder it won a handful of Academy Awards.
Since it landed in movie theaters and made its way into our living rooms, Forrest Gump and its terrific characters played by the likes of Tom Hanks, Robin Wright, Gary Sinise and Sally Field have been quoted and duplicated every year for Halloween. Of course, there are a few things you absolutely have to do to show just who you are if you dress up like Forrest Gump.
Playing ping pong at incredibly high level? Yeah, sure. But everyone knows Forrest was known for simply running. You've heard the quote before: "Run, Forrest, Run!"
When one college baseball player dressed up like the iconic character during a scrimmage, that's exactly what he did.
Baseball Player Impersonates Forrest Gump Perfectly
RELATED: Bullpen Catcher Crushes "Single Ladies" Dance During Game
That's Ren Reynolds, an infielder for Tyler Junior College in Tyler, Texas. TJC's baseball team was conducting its annual Halloween game in which players dress up and play each other in what looks like a blast of a game.
Make no mistake, though. Reynolds stole the show. Actually, he ran off with it.
Complete with the red hat and ping pong paddle in his pants, Reynolds not only nailed the Forrest Gump costume but he also nailed Forrest Gump's running scene. After grounding out, Reynolds ran through first base…and down the foul line…right out of the stadium. He even hops the freaking fence. What dedication to his role!
Here's what the real Forrest Gump looked like, for anyone who forgot:
"One of my teammates (Trey Erwin) told me to keep running, and when I did and jumped the fence I thought 'I hope they think it's funny' because I was tired after!" Reynolds told TJC Apache Athletics. "I picked Forrest Gump because that was one of the movies I watched with my family growing up and we thought it was super funny."
That wasn't his only Forrest Gump impression of the day. According to TJC athletic director Dr. Tim Drain, he yelled in Gump's accent "I gawd iiit!" on a fly ball. When he singled earlier, he stood on first base and waved like Mr. Gump.
Job well done, Ren.
The video, shot by Drain, instantly went viral. Outlets across the country picked the story up and shared the viral video of the hilarious junior college baseball player.
I'm not sure anyone has ever crushed a Forrest Gump impersonation quite like that on the baseball field. I can't wait to see what Ren Reynolds has up his sleeve during the next Halloween game.