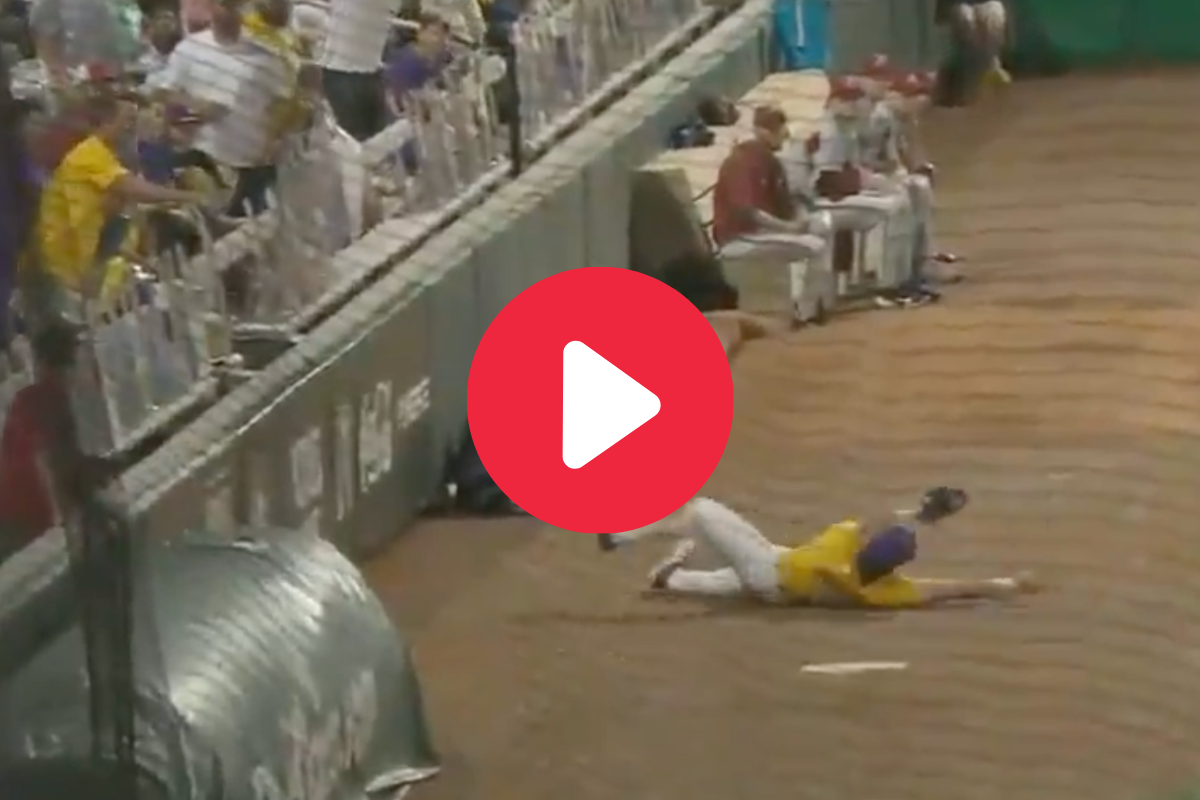 Screenshot from Twitter:LSU Baseball
Cade Doughty bleeds purple and gold.
The LSU sophomore third baseman is carrying on quite the legacy in Baton Rouge. Cade and his brother, senior catcher Braden Doughty, are the sons of former Tigers catcher Richard Doughty. Their great grandfather, Frank Doughty, played basketball at LSU in 1937 way before Pistole Pete Maravich ever stepped foot on campus.
Needless to say, Cade is willing to do whatever it takes to win games inside Alex Box Stadium under head coach Paul Mainieri. Even if it means contorting his body to make catches like the one he reeled in against Arkansas.
Cade Doughty's Sliding Overhead Catch
RELATED: LSU Catcher?s Diving Foul Catch Showed Her Crazy Range
The LSU Tigers led the Arkansas Razorbacks, 5-1, in the top of the eighth inning on Saturday. An Arkansas batter popped a ball up foul down the third base line near the Razorbacks bullpen.
Doughty was manning the hot corner when he broke into a full sprint to chase after it. He somehow maintained his focus and made an incredible sliding overhead catch just short of the wall.
The fans in Baton Rouge went wild over the play.
"Unbelievable. Full speed, back to the infield. Sliding into the home plate area," an announcer said. "That one could make the top 10 tonight on ESPN."
The play proved to be important, too. Doughty's catch recorded the second out of the inning. Arkansas went on to score three in the ninth, coming up a run short and losing to LSU, 5-4. Without Doughty's catch, who knows what happens in the eighth?
"It was a great ball game, and atmosphere in the stadium was tremendous," LSU coach Paul Mainieri said afterward. "I can't say enough about the fans and the way they inspire our players. It's such a wonderful experience to be in our stadium when our fans create that type of electricity."
It wasn't just the fans creating electricity that night. Cade Doughty's sliding catch gave LSU fans quite the spark.