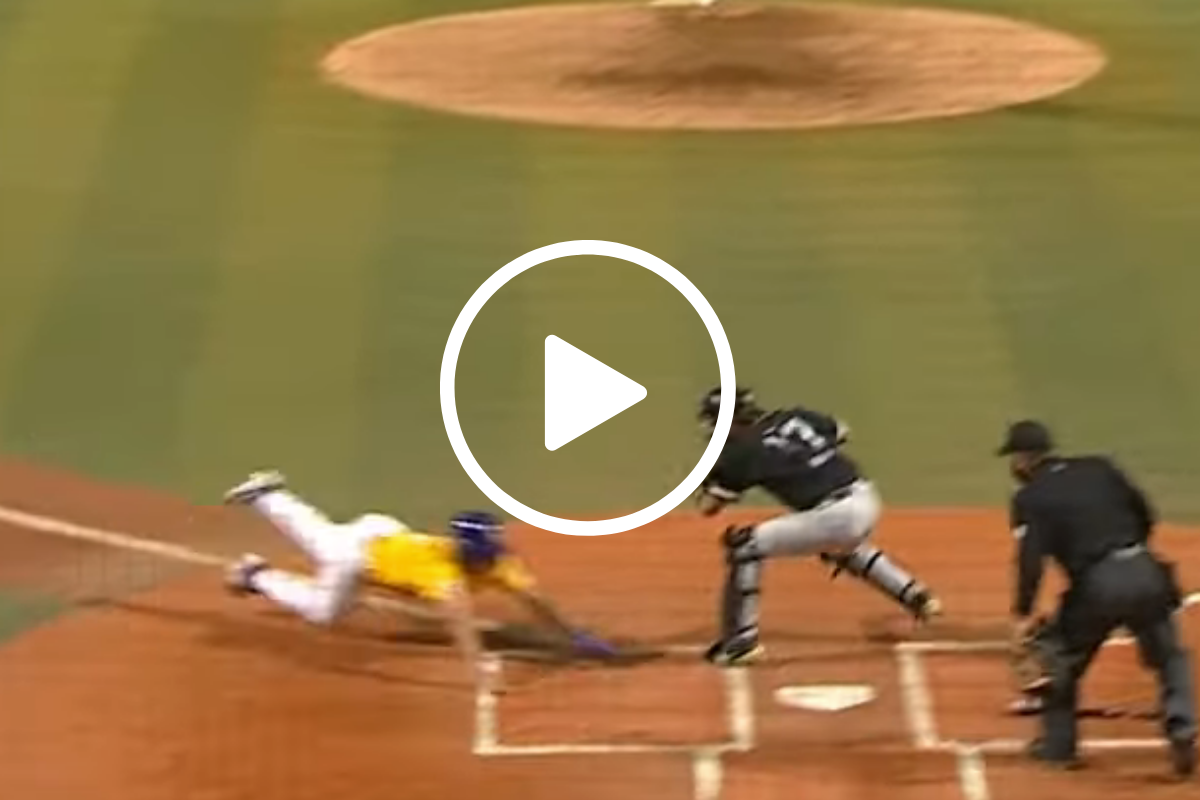 Screenshot from YouTube
I can't help but smile.
Anytime the LSU Tigers advances further into the NCAA Tournament, it's a good day for college baseball fans.
The LSU faithful descending upon Omaha is a treat. They are loud, passionate, inviting and laugh in encouragement when I do my Ed Orgeron impression.
The Tigers proceeded one step closer to the College World Series with a comeback win over Oregon in the Eugene Regional on Monday night.
A diving slide from left fielder Gavin Dugas knotted the game at 8 and ultimately opened the door for victory.
Gavin Dugas' Diving Slide Against Oregon
RELATED: LSU?s ?Inside-The-Park? HR Made Oregon Look Like Little Leaguers
LSU jumped out to a 2-0 advantage only for Oregon to rally back with four unanswered runs heading into the fourth inning.
Dugas crushed his second home run of the game to cut the lead to two. Center fielder Drew Bianco reached on a single and later scored on a wild pitch to bring the Tigers within one.
Bianco hit a two-run home run in the bottom of the sixth to take a 6-5 lead.
The Oregon Ducks weren't going to keel over. They scored two in the top of the seventh to reclaim the advantage.
Head coach Paul Mainieri's squad was down 7-6 and time was running out.
Who else but Gavin Dugas, who fell a single shy of the cycle a day prior, walked to start the bottom of the eighth. Third baseman Cade Doughty rocked a double to advance Dugas to third base.
Designated hitter Cade Beloso had a chance to keep the momentum going. The lefty hit a bouncing grounder to first, and Dugas was off to the races.
Oregon first baseman Gabe Matthews fielded it and fired to home plate. Dugas dove headfirst to narrowly beat the throw and tie the game at seven apiece. A feet-first slide may have resulted in a pivotal out.
Matthews delivered an on-target throw to the third base side of the plate. Dugas' Superman-like extension was too much, and the Eugene crowd was fuming.
The Tigers knocked in two more runs to secure the lead and never looked back. Oregon scored one run in their half of the ninth to get within one, but it wasn't enough. LSU hung on, 9-8.
It was the Bayou Bengals' fourth win in a three-day stretch. The comeback kept the CWS within sight while also keeping Paul Mainieri's final season alive. The longtime LSU coach announced this year would be his last. He's the winningest active coach in NCAA Division I baseball.
The Tigers will face SEC foe Tennessee in the Knoxville Super Regional, where they hope to keep the "Mainieri Magic" alive.