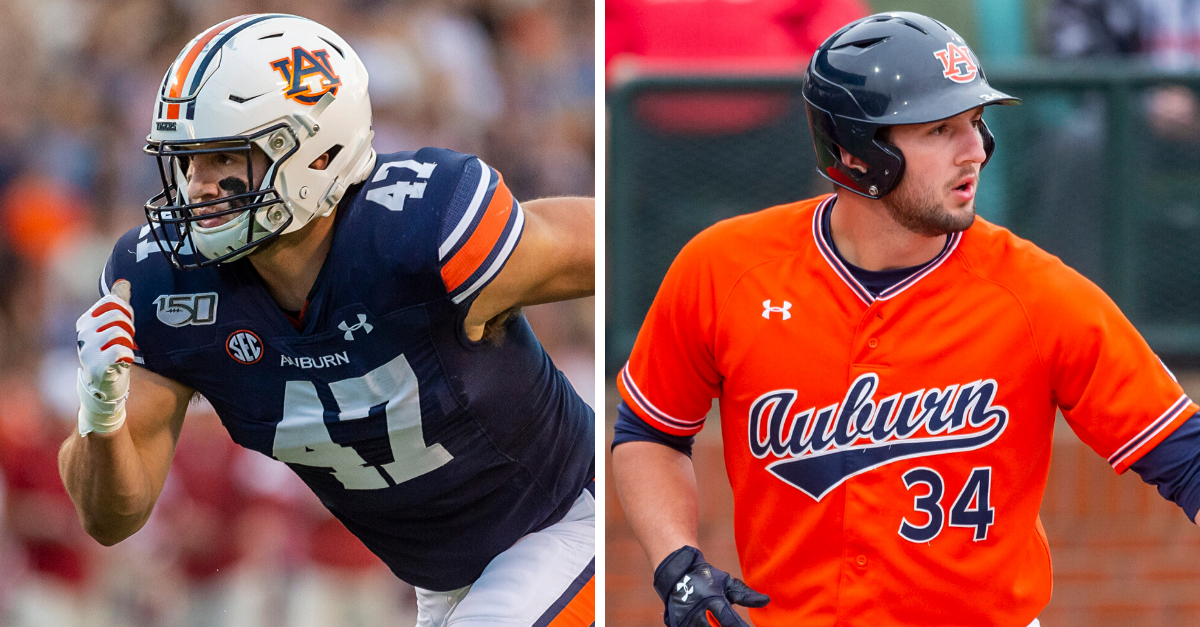 AP Photos/Vasha Hunt
John Samuel Shenker and Butch Thompson both agreed. Shenker's first swings on a baseball field since playing high school baseball were ugly. But what else should they have expected?
Shenker, a tight end for the Auburn Tigers football team, was trying out for Auburn's baseball team. He hadn't played the sport in two years and put on some serious muscle mass since then, yet here was the 6-foot-3, 248-pound tight end showing the school's baseball head coach he could still play.
The swings improved. Thompson liked what he saw. Now, Auburn has its latest dual-sport athlete.
Shenker began practicing with the team and made his collegiate debut in the team's season opening series against Illinois-Chicago. In three games, he went 3-for-7 with a double, two RBIs and three runs as a designated hitter and first baseman.
"I think anyone that's played this sport or understands college baseball would tip their hat to him," Thompson told reporters on Sunday, via OANow.com.

"I thought his at-bats were really competitive for a first weekend. Kind of incredible, actually."
John Samuel Shenker: Auburn's Latest Dual-Sport Athlete
Shenker is hardly the first or most notable dual-sport athlete in Auburn history. That distinction will always belong to Bo Jackson, who played eight years in MLB and four seasons in the NFL.
In fact, Shenker isn't even the lone dual-sport guy on Auburn's football team. Anthony Schwartz and Shaun Shivers both run track. Even Gabe Gross, an assistant baseball coach, played football for Auburn back in the 1990s. And you can't forget Frank "The Big Hurt" Thomas, who accepted a football scholarship before focusing on baseball and becoming a Baseball Hall of Famer.
The dual-sport trend has been common in recent years across college football. Kyler Murray became the first athlete taken in the first round of both the NFL and MLB drafts. Jameis Winston was a relief pitcher for Florida State while leading the Seminoles to a national championship on the gridiron.
Even in the SEC this season, multi-sport athletes are taking over. LSU's Maurice Hampton played defensive back and will man the outfield for the Tigers. Ole Miss running back Jerrion Ealy will do the same for the Rebels.
Why Shenker Decided to Play Baseball
RELATED: Alabama WR Joins Baseball Team for Opening Weekend
Recent trends didn't make Shenker's decision to approach Auburn football coach Gus Malzahn in May 2019 about the idea any easier.
"I approached him and we kind of talked it through, like, what would happen and stuff like that," he told OANow.com. "At the end of the summer I came over here and hit for Coach Thompson and (assistant coach Karl Nonemaker), and they said, 'After the season, come back with us and we'll let you try out for the team.' So after the season, I came back and started talking and started practicing."
Shenker caught six passes for 61 yards over the last two seasons, including touchdowns against Texas A&M and Georgia and a 26-yard reception against Mississippi State. He appeared in every game in 2019, including five starts for the Auburn offense. Now a junior, he used a redshirt as a freshman in 2017.
But why would the Auburn tight end choose to play baseball so late in his college career?
One reason: the love of the game.
"When I stopped, the first year I came over here, it really hurt to watch the guys play that I was coming in here with to begin with. So that really was tough on me," he told OANow.com.
John Samuel Shenker in High School
Shenker was actually committed to play baseball at Auburn at one point in high school.
While playing for Georgia's Deerfield-Windsor School alongside current Auburn standout outfielder Steven Williams, he won two state championships in 2015 and 2016. Perfect Game rated him the No. 3 third baseman in Georgia and a top-500 player nationally.
After transferring to Colquitt County High School and starring on the football field, he then chose to play football for Malzahn.
Shenker told The Auburn Plainsman that the itch to play baseball never really went away. He went went to as many baseball games he possibly could at Plainsman Park. Now, he finds himself playing in them.
Even if he doesn't wind up the next Bo Jackson or Frank Thomas, Shenker taking on another sport is no small task. He knows that, but he's just glad to be back on the diamond.
"I know it's a blessing," Shenker told OANow.com. "You know, you have to take every day for what it's worth. It's really awesome."