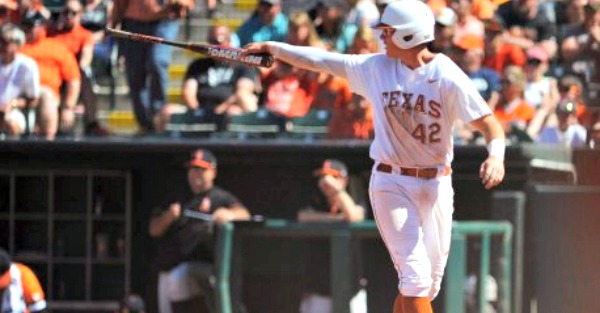 Sport News via Twitter
Kacy Clemens, a first baseman with a famous surname, was selected in the eighth round of the Major League Baseball draft by the Toronto Blue Jays.
Clemens, 18, is the son of Roger Clemens, widely acknowledged as one of the greatest pitchers ever.
His son isn't bad, either. The senior, who played for the Texas Longhorns, blossomed in 2017, and a University of Texas press release detailed his accomplishments. He led the team in nearly every hitting category and played a sterling defense at first.
Senior first baseman Kacy Clemens has been selected by the Toronto Blue Jays in eighth round, 249th overall, on Tuesday afternoon in the 2017 Major League Baseball Draft.
Clemens was the offensive MVP for the Longhorns this season, leading the team in nearly every category. Clemens led the Longhorns in batting average (.305), on-base percentage (.414), slugging percentage (.532), home runs (12), RBI (49), runs scored (48) walks (40), and hits (67). Starting all but one game for the Longhorns, the first baseman also stole 10 bases for Texas and fielded at a .992 clip. With the bases loaded, the senior went 5-for-9 (.556) with two grand slams. He also added 20 game-tying or go-ahead RBI to go along with 20 two-out RBI on the year.
Considered one of the top defensive first baseman ever at Texas, Clemens fielded at a .991 clip and added 100 assists for his career. After splitting time on the mound and at first base in his first two seasons at Texas, Clemens switched to first base more permanently in his junior season. Although he finished his career with a .267 average, Clemens hit .304 over his last two seasons with 17 homers and 80 RBI.
Clemens is the first Longhorns senior taken in this year's draft and the fifth Longhorn overall, joining Morgan Cooper (Dodgers, 2nd round), Nick Kennedy (Rockies, 5th round), Kyle Johnston (Nationals, 6th round), and Bret Boswell (Rockies, 8th round) as Longhorns selected so far in this year's draft.
His  famous father won 354 games over a 24-year career and won more Cy Young awards (seven) then any pitcher in baseball history. He should be a shoo-in for the Hall of Fame but has failed to gain entry so far because of allegations of steroid use made by his former trainer. Clemens has denied the allegations.