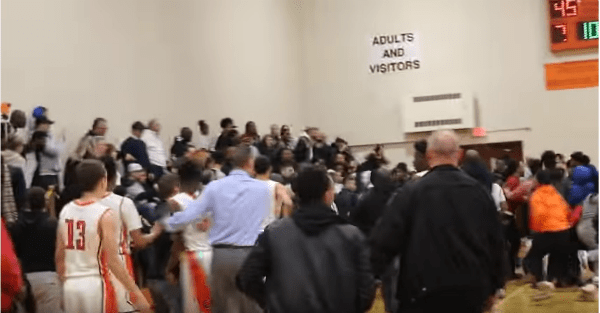 Zachary Simmons/YouTube
Zachary Simmons/YouTube
In a game featuring two high school rivals facing each other, a 60-person brawl forced the event to come to an early close.
Vince McMahon would be proud. Everyone's parents, and/or people with a decent head on some shoulders, maybe not so much.
Monessen and Clairton, two suburban Pittsburgh rivals, decided trying to see who can score the most points wasn't exactly the best way to determine the winner. So, instead, the following happened (of note, the actual brawl happens around the 5:15 mark, but the highlights add context):
https://www.youtube.com/watch?v=p42CrNDHNws
Apparently, no one was arrested after this fiasco. With the video making the rounds on social media and whatnot, with a presumed spurned adulthood presence likely angry, that might change.
"It was chaos," videographer Zachary Simmons told WTAE. "Chaos was everywhere. "The second a punch was thrown between players on the court, the whole gym took the opportunity to take it out."
Sounds like a leaky faucet that gave way.
Anyway, the game was called with 4:24 remaining in the fourth quarter. No word yet if the people who paid full price for an entire game will be refunded — or if they might be forced to pay extra for the random WWE Brawl For It All that took place.