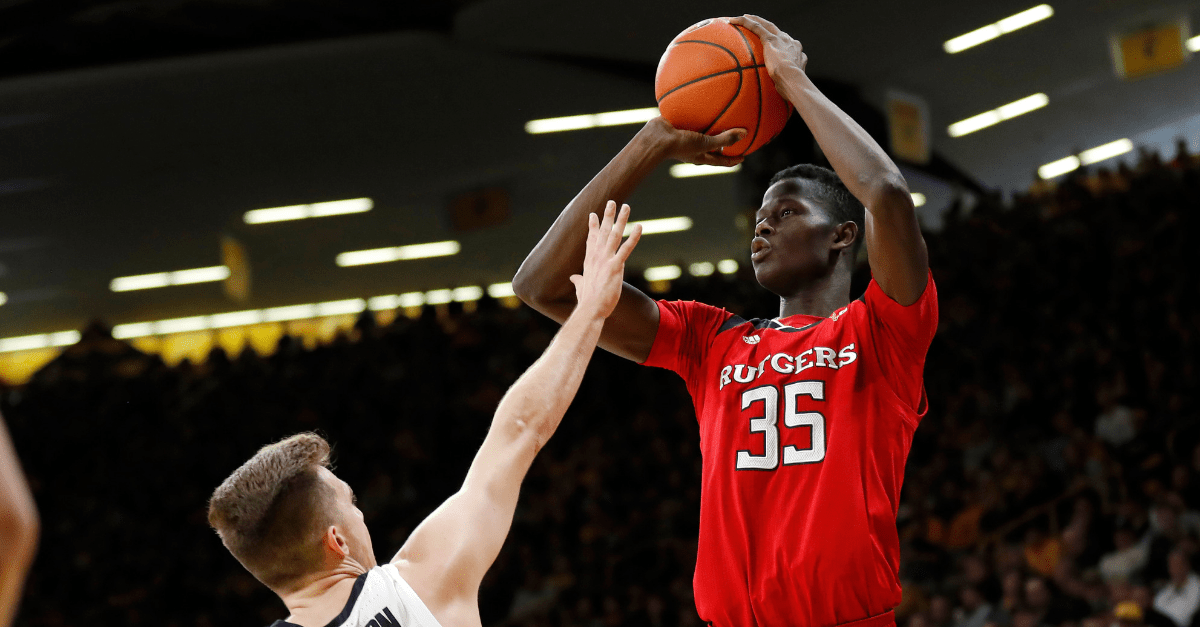 AP Photo/Charlie Neibergall
There are teams fighting for a spot in the NCAA Tournament and then there is Rutgers. The Scarlet Knights have struggled winning games this season and now head coach Steve Pikiell has to deal with a serious off-court issue involving one of his reserve players.
Issa Thiam, a 6-foot-10 junior forward from Dakar, Senegal, was arrested and charged with simple assault, criminal mischief, false imprisonment, tampering with physical evidence, possession of a weapon for unlawful purpose, theft by unlawful taking, and terroristic threats, according to NJ.com and the Piscataway Township Municipal Court.
So what did he do to get seven charges? The Associated Press reports Thiam is accused of slapping a woman and swinging a knife at her because she refused to give up her cellphone.
Thiam, who averaged 3.8 points and 2.3 rebounds in nearly 17 minutes per game this season, was suspended indefinitely following his arrest last week and has now been dismissed from the Rutgers University basketball team. His profile has been removed from the official roster.
RELATED: LSU?s Will Wade Caught in FBI Wiretap, And Now He?s Suspended
Being kicked off the Scarlet Knights basketball team right before the Big Ten Conference Men?s Basketball Tournament at the United Center in Chicago is likely the least amount of concerns for Thiam, the former Rutgers basketball player who has started nine games this season.
Thiam has been ordered to surrender his passport, according to The AP, a judge has barred him from the Rutgers campus, and he now faces deportation. He returns to court on April 5.
According to Charles Sciarria, via USA Today, Thiam is ?still in shock? over the arrest and domestic violence allegations and was released from jail on Tuesday.
?The kid is still in chock that this is going on. He?s going to live with family [in Hudson County] and get some sleep, and then we?ll deal with the criminal charges and see what his future holds.?

? Attorney Charles Sciarria, via USA Today
Sciarra also mentions Thiam ?has no ill feelings toward Rutgers or anybody there and the experiences he?s had there.?
Only time will tell what will happen with Issa Thiam, but his college basketball career and time in the United States is in jeopardy after the alleged incident in New Jersey.