It's springtime again, and that can only mean one thing: it's time for college basketball to get truly wild. There's a reason March Madness is considered the most fun sports event of the year; it's when we get to really find out how much (or how little) the regular-season rankings really mean. Don't get me wrong, the conference tournaments are fun and all, but the big show is really where it's at.
Every year, there's at least one shocking upset and at least one unreal buzzer-beater, and more often than not, the two occur during the same game. The promise of March Madness is that anything can happen - and unlike most sporting events that forward that promise, in this one, it really feels true. Some of the finest moments in sports history have happened during the NCAA Tournament, as evidenced by the fact you just thought of three to five of your personal favorites when you read that sentence. So which games make the cut? Is your favorite school, your favorite game on this list? Read on to find out.
NC State vs. Pepperdine, 1983
The 1983 Wolfpack is the only team that's going to show up on here more than once - but their unbelievable run to the title was almost over before they even made it to the second round. After shocking the country by unexpectedly winning the ACC Tournament, NC State took Pepperdine for granted. They were only able to force a second overtime thanks to several missed free throws down the stretch for the Waves. It's genuinely funny that the only March Madness game NC State was expected to win is the one they came the closest to losing.
Duke vs. Butler, 2010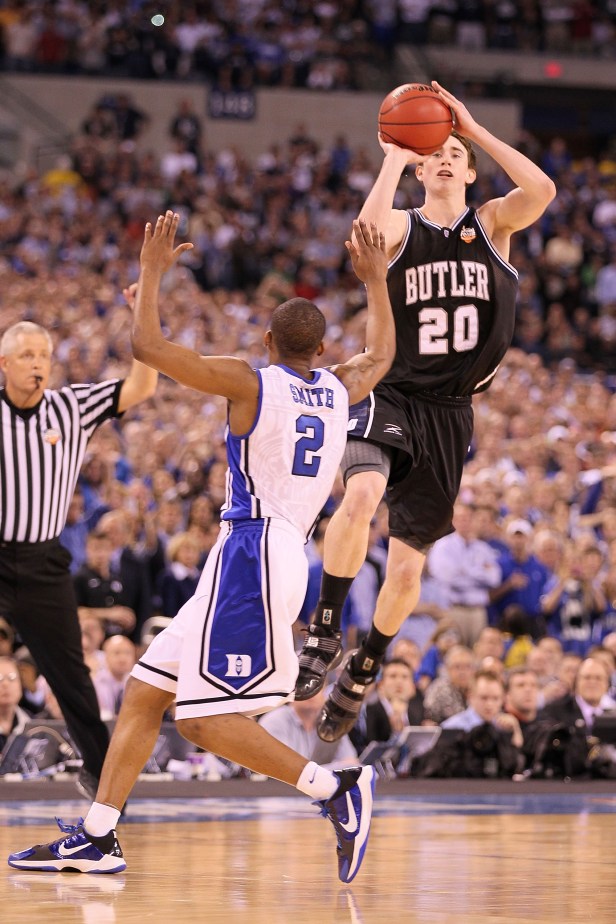 In 2010, we came within a few inches of a national champion from a mid-major conference. Butler somehow made back-to-back national title games in 2010 and 2011, but this was where they came the closest. In a final played just minutes from their home court in Indianapolis, the Bulldogs overcame shooting 34.5% from the field to put themselves in position to stun the Blue Devils with only seconds remaining, but Gordon Hayward's potential game-winner from halfcourt BARELY missed.
Maryland vs. UNC-Wilmington, 2003
This is the all-time great forgotten March Madness game. A year after the Terps had won the National Title, they came into their opening game as a 6-seed without much expected of them. UNC-W were the champions of the Colonial Athletic Association thanks to star guard Brett Blizzard. But it was freshman point guard John Goldsberry who went absolutely bonkers in this game, setting an NCAA record by going 8-8 from three. With five seconds left, UNC-W had a 73-72 lead, but UMD guard Drew Nicholas streaked down the court and hit a running buzzer-beater in one of the best NCAA Tournament endings you'll ever see.
NC State vs. Houston, 1983
Never has so ugly a game been so beautiful. Apologies to UTEP vs. Kentucky, but this is the greatest upset in college basketball history. The early 1980s Houston teams are unquestionably the greatest college teams to never win a national championship, making three straight semifinals and two title games. They were LOADED, with two future NBA Hall of Famers (Hakeem Olajuwon and Clyde Drexler) and a host of great role players like Benny Anders, Michael Young, and Larry Micheaux. NC State, meanwhile, had...well, Thurl Bailey and a couple of undersized guards in Dereck Whittenburg and Sidney Lowe. Somehow, NC State kept the game close enough for a last second desperation heave by Whittenburg to hit paydirt...by falling right into the hands of unheralded center Lorenzo Charles for an entirely unplanned buzzer-beating dunk (even typing those words feels unbelievable).
Baylor vs. Georgia State 2015
The 2015 Tournament was a completely Banana Town affair, with two 14-seeds upsetting 3-seeds in the first round. Apologies to UAB vs. Iowa State, but it was this game that lives in our collective basketball memory. Kevin Ware made his first NCAA appearance after destroying his leg two years earlier in the Elite Eight, but that's not what made this such a great game. No, that would be the indelible image of Georgia State coach Ron Hunter rocketing off the bench after his son, star guard R.J., drilled the go-ahead three from what felt like the fifth row with 2.7 seconds left. It capped off a 12-0 run in the last three minutes for one of the best upsets in tournament history.
Indiana vs. Syracuse, 1987
With 28 seconds to go in the 1987 National Championship Game, it looked like Syracuse would finally win their first NCAA tournament. All Derrick Coleman had to do was sink a couple of free throws and it would be difficult if not impossible for Indiana to come back. Instead, he missed the front end of a one-and-one and Indiana's Keith Smart drilled a jump shot with less than five seconds remaining to give the Hoosiers their fifth and most recent NCAA title.
George Mason vs. Connecticut, 2006
Look, I'm not even going to pretend this one wasn't delicious for me to watch as a DC kid who absolutely loathes UConn. George Mason's absurd run to the Final Four as an 11-seed in 2006 had plenty of highlight moments, but this one from the Elite Eight stands out above the rest. Despite a frankly comical height disadvantage where the Huskies looked like they were playing a high school team, the Patriots out-rebounded Connecticut, overcoming a 12-point halftime deficit with a blistering second half to win one of the higher-scoring Cinderella games in NCAA tournament history.
North Carolina vs. Georgetown, 1982
Before he was a crunch-time assassin for the Chicago Bulls, Michael Jordan was a lanky freshman shooting guard at Dean Smith's Chapel Hill with a lot of promise but nothing proven. In this game, he proved it, drilling the game-winning shot with 17 seconds left in what he later called "the turning point of my career." The star power in this game was unmatched: three future NBA Hall of Famers in Jordan, James Worthy, and Patrick Ewing along with a top-five pick with a 20-year career in Sam Perkins.
Michigan vs. Seton Hall, 1989
For all the games in Wolverines history that get remembered, somehow their sole national title win usually gets forgotten. Glen Rice had a tournament unlike any other, setting a record for points, and he saved his best for last: 31 points and 11 rebounds as his Michigan team survived against the underdog Pirates thanks to some key free throws down the stretch.
Kansas vs. Memphis, 2008
Call this one the Sword of Damocles Game. Going into this National Championship Game, everyone - and I mean everyone - knew Memphis's Achilles heel was free-throw shooting, but coach John Calipari was supremely and vocally confident his guys would hit the shots they needed to down the stretch. They, uh...did not do that. They did not do that at all. Memphis missed four of five FTs and blew a nine-point lead in the last two minutes and the Jayhawks' Mario Chalmers drilled a three with 2.1 seconds left to send the game to overtime. It was done at that point, as Kansas dominated the extra period.
UMBC vs. Virginia, 2018
Going into 2018, a 16-seed had ever beaten a 1-seed in the first round. It was considered practically impossible, but if it did happen, it would have to involve an undisciplined and streaky overdog against a plucky underdog who hung in and hung in and hit an improbable game-winning shot at the end of an ugly, poor-shooting contest. So of course when it did happen, it was the most consistent number one in the NCAA in Virginia losing to a UMBC Retrievers team that shot 54.2% from the floor and absolutely blew them out of the gym, beating them by 20. This is the only time a blowout has ever been absolutely thrilling to watch.
Michigan vs. North Carolina, 1993
In 1992, Michigan's "Fab Five," the first high-profile freshman starting five ever, took the country by storm before getting trash-canned by Duke in the national title game. In 1993, they were even better, rampaging through the regular season to the tune of a 31-5 record and making the title game again. This time, the stylish cool kid Wolverines were up against...the Tar Heels and Eric Montross's extremely stupid haircut. Trailing by two in the final seconds, Michigan handed the ball to future NBA Hall of Famer Chris Webber, who dribbled upcourt and called a timeout - when his team was out of them. The resulting two free throws and the ball sealed the game. Webber's mistake might be the single worst play in NCAA Tournament history - and probably the most unexpected one.
Duke vs. Kentucky, 1992
As a lifelong loather of Duke University, typing this is wrenching years from my very soul, but I can't deny what is widely regarded as one of the greatest basketball games ever played. The Blue Devils and the Wildcats fought it out in a high-scoring back-and-forth affair, but it's the ending everyone remembers, and for good reason: Grant Hill chucked a pass most of the way down the court to Christian Laettner, who turned at the free-throw line and drilled maybe the most famous last-second shot in NCAA Tournament history.
Villanova vs. Georgetown, 1985
A lot of truly great programs keep failing to win because they come up short when it matters, having their worst possible games at the worst possible times. The Georgetown Hoyas in the 1980s were weird in that they actually played very well in their losing national title games, nowhere more so than in this one. The upstart Wildcats were given no chance against the dominant Hoyas, and Georgetown shot 54.7% from the field, which should've been more than good enough...except Villanova shot an absolutely unreal 78.6% in what has to be considered the prettiest game ever played.
UCLA vs. Gonzaga, 2006
The Bruins might have the most storied tradition in college basketball history, but it's somehow fitting that their greatest matchup ever came long after the end of their glory days. Gonzaga is known for March Madness collapses, and they've never had a greater one than this, giving up a 17-point lead and losing the game on an 11-0 UCLA run in the 2006 Sweet 16. The image of Gonzaga star Adam Morrison sitting on the floor, his pornstache drooping forlornly in the wake of the loss, is one of the most memorable NCAA Tournament photos ever.
Villanova vs. North Carolina, 2016
Considering the stakes at play here, this might be the greatest NCAA Tournament game ever played. The Tar Heels and Wildcats traded threes virtually the entire game, and it was threes the game came down to. With 4.7 seconds remaining, UNC's Marcus Paige nailed an absolutely absurd off-balance three to tie the game. It would've been the shot of the tournament...except Villanova's Kris Jenkins drilled a buzzer beater for the national title only seconds later.
Honorable mentions: UNLV vs. Duke 1991, Florida vs. Wisconsin 2017, Arkansas vs. Duke 1994, Loyola vs. Cincinnati 1963, Louisville vs. Duke 1986, Arizona vs. Gonzaga 2003, Michigan State vs. Indiana State 1979, Oklahoma vs. Louisiana Tech 1985, Texas Western (UTEP) vs. Kentucky 1966, Marquette vs. UNC-Charlotte 1977, Ohio State vs. Xavier 2007, Purdue vs. Little Rock 2016, Texas A&M vs. Memphis 2007, Virginia vs. Auburn 2019, Illinois vs. Arizona 2005. These were all great games, but they weren't quite great enough.
Want More Sports News?
Get the biggest and best sports news sent directly to your inbox.