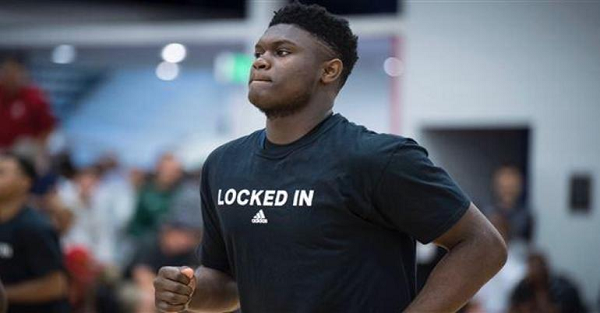 @BizSportsX/Twitter
@BizSportsX/Twitter
No. 2 overall recruit Zion Williamson showed up to a USA Basketball camp with some numbers that scouts and recruiting analysts didn't like. However, that hasn't forced anyone to pull an offer from him and in fact, he is reportedly narrowing his list of schools according to ZAGSBLOG.
Adam Zagoria says that Williamson is no longer considering UCLA and pulled out out of a visit there this coming weekend. The 6-foot-6, 272-pound forward has already visited Duke and Kentucky with those two schools and has Kansas, Clemson, South Carolina and North Carolina still in play for him.
Williamson could make a decision on a commitment in late November or December, but has said that it if doesn't feel right he would wait longer. Williamson is ranked as the No. 2 recruit in the class of 2018 and top at his position of power forward according to ESPN.
Here are some of his highlights: