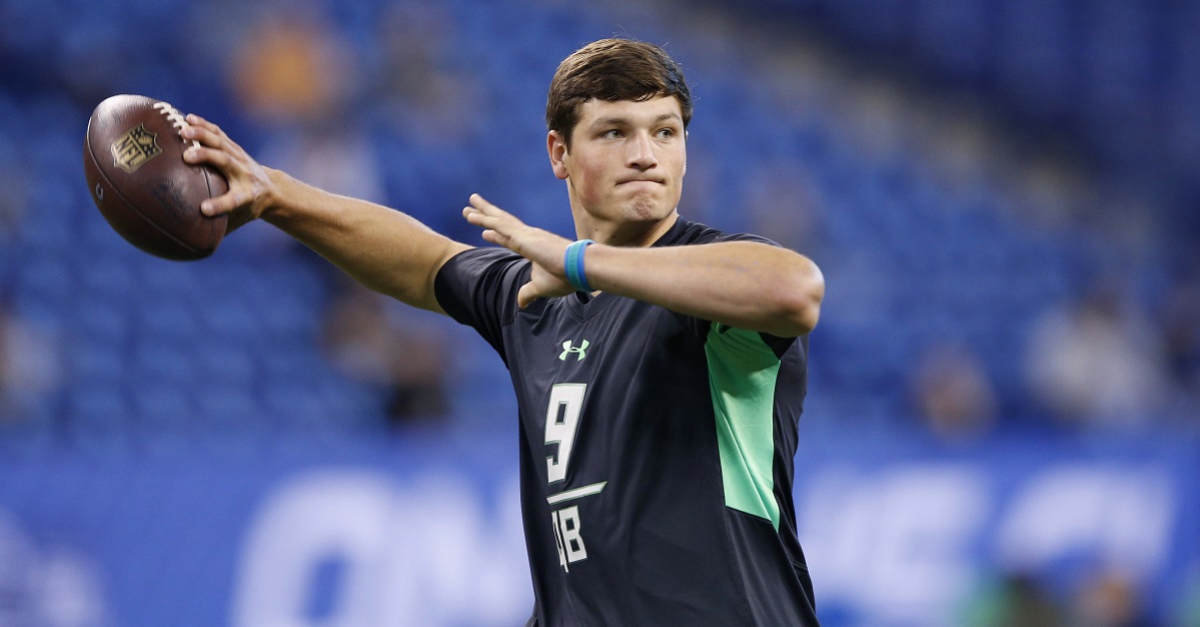 INDIANAPOLIS, IN - FEBRUARY 27: Quarterback Christian Hackenberg of Penn State throws during the 2016 NFL Scouting Combine at Lucas Oil Stadium on February 27, 2016 in Indianapolis, Indiana. (Photo by Joe Robbins/Getty Images)
If you are trying to impress NFL scouts, placing the blame of your shortcomings on your college coach probably is not a smart route to take.
According to MMQB, Christian Hackenberg of Penn State did just that. Here's what they reported on the subject:
Per two personnel sources on two separate teams who have shown interest in drafting Penn State's Christian Hackenberg, the quarterback has said all the wrong things in interviews when asked to explain his declining sophomore and junior numbers (a combined 28 touchdowns and 21 interceptions). Hackenberg has shifted blame to coach James Franklin, who took over in 2014 when coach Bill O'Brien departed for the Texans. Said one evaluator: "Despite the fact that it's probably true, you don't want to hear a kid say that."
Hackenberg, once touted as a potential No. 1 overall pick, fell pretty far in the past two seasons, with that drop coinciding with James Franklin taking over at Penn State for Bill O'Brien.
However, even if Franklin's coaching and offense has been holding Hackenberg back, that is something you should let the scouts decide. While this might just be some poor decision making from a young prospect — bound to happen to everyone at some point — a general manager and coach are going to be skeptical of a player that was so willing to completely trash his previous organization.
For his part, Hackenberg says his remarks have been misinterpreted and he's talked to Franklin. He's been making the pre-draft rounds and visiting teams, so we'll see how this impacts him.