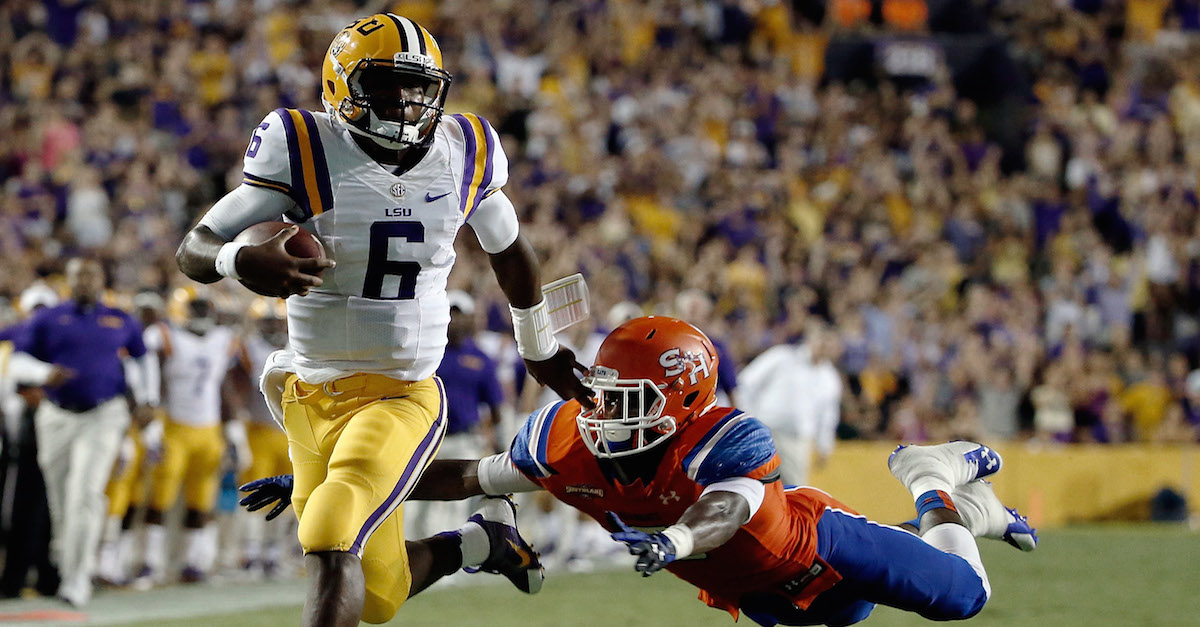 Stacy Revere/Getty Images
Brandon Harris did not exactly enjoy a storybook ending to his time with the LSU Tigers. The graduate transfer lost his job in 2016 and, in general, Harris did not play at the level of a top-flight SEC quarterback during his stay in Baton Rouge.
Still, he has experience at the highest level of college football and that makes Harris' pending transfer incredibly interesting. With that in mind, a very interesting suitor emerged this week, as Texas head coach Tom Herman confirmed that the Longhorns are in the mix for Harris.
Sophomore Shane Buechele is the default starter at the position for Texas but he did not grab a stranglehold on the job down the stretch of the 2016 campaign. In fact, Harris indicated to Anwar Richardson of OrangeBloods that he seems to think playing time would be in the cards if he landed in Austin:
"I am not saying how coach Herman is thinking, because I don't know how he thinks, or how coach (Tim) Beck (offensive coordinator) thinks, but I don't see any situation where a guy brings a senior in for one year to sit on the bench. I'm not saying they are promising me anything. I haven't been promised anything. I'm just saying, rationally speaking, in most scenarios if you think you're solid at quarterback, and I don't know what they think. You probably know more than I do, but if they think they're solid at quarterback, they probably don't do that."
From Harris' perspective, it does make sense that he would believe there was a chance to, if nothing else, compete for the job because of the fact that he has only one year of eligibility remaining. Still, there is a school of thought that building with Buechele under center makes (much) more sense for Texas in the long term and the jury is out on whether Harris could win that job.
Still, the Longhorns are definitely recruiting Brandon Harris and it will be interesting to see where he lands.