Now before I get started, let me make it known that I was a big fan of the Clemson Tigers being ranked ahead of the Michigan Wolverines in the first College Football Playoff Rankings, which were released Tuesday night. Clemson has wins over three AP Top 25 teams that had been undefeated, while the Wolverines only have one, and the Wolverines' non-conference schedule was pathetic. But that does not mean I think the Clemson Tigers are the best team — and, to be honest, I have my reservations about how good they actually are.
The Atlantic Coast Conference has had some good and surprising success this year. Clemson is currently undefeated; the North Carolina Tar Heels are 7-1; and the NC State Wolfpack, Syracuse Orange and Wake Forest Demon Deacons are all 6-2. But what does that actually mean?
Clemson's Rocky Road Through the ACC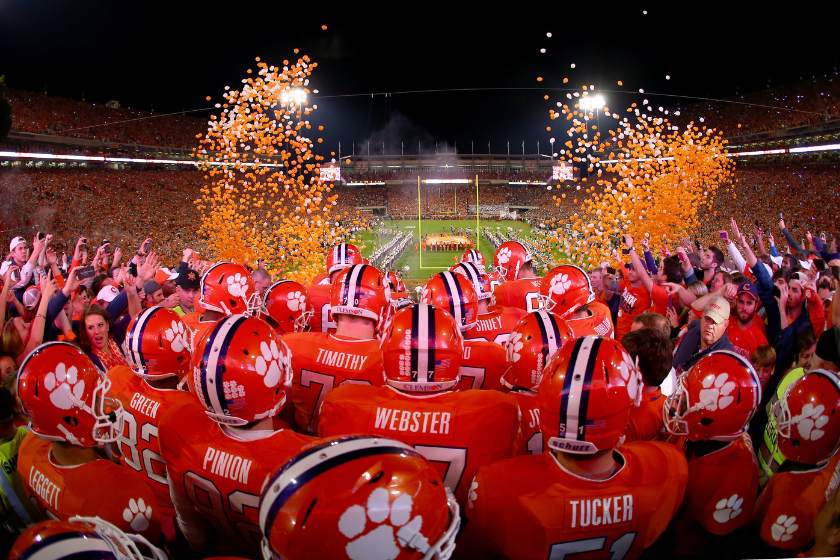 RELATED: Clemson Survives an ACC Instant Classic Against Wake Forest for an Emotional Win
Well, it means there is a lot of parity among the teams of the ACC. Aside from North Carolina, four of these teams reside in the same division of the conference. And two of those teams, NC State and Wake Forest, sit at the fifth and sixth spots in the divisional standings. That means, including Syracuse, two teams are ahead of them, and both of those teams are 5-3.
And then there is the Coastal Division of the ACC. Outside of the Tar Heels, it has one team with a winning record — Duke — and has a combined record of 21-27.
So, as you can see, this is not a good conference. And if you do not believe me, look at what the conference is implementing next year: no more divisions, and a new scheduling format. It means that even the higher-ups of the conference realize how average this conference is. I know there is more going into this decision with conference realignments, but this is definitely a deciding factor.
So what does this all have to do with Clemson and how good they are? Everything!
Is Clemson CFP Material?
RELATED: Dabo's Decision to Bench Uiagalelei Proves He's a Mastermind of Nick Saban Proportions
Do you remember the 2017 College Football Playoff semi-final games that saw the Clemson Tigers beat the Ohio State Buckeyes 31-0 and the Alabama Crimson Tide beat the Washington Huskies 24-7? Or the year prior, when the Crimson Tide beat the Michigan State Spartans 38-0? Well, if you do remember that, you remember the controversy and arguments over those teams getting into the playoffs — and that even if two of the three were conference champions, they were not playoff-caliber teams that year. And this year we are seeing the same exact thing with the Clemson Tigers.
Now defensively, the Clemson Tigers are all right. But against the one great offense they faced, they struggled tremendously, as Wake Forest's Sam Hartman had a field day against that secondary. Quarterbacks such as CJ Stroud, Hendon Hooker and Bryce Young would have mind-boggling numbers against this Clemson team. So, what about their offense?
The Clemson offense ranks 48th in yards per game, with neither the passing attack nor the running game making any strides to be the leading force of this struggling offensive attack. Because of their record and the results of their games, they look dominant; but they are not as dominant as they might lead you to believe and are just taking advantage of the mediocre-to-average conference they are in.
And because of this, they are going to most likely win out, win the ACC Championship Game and make the College Football Playoff — and then get run out of town by whatever team they play.
But this is the perfect example of why an expansion to the College Football Playoff is needed. Now, I am not really all for the expansion to 12 teams; I would much prefer six teams or eight teams. But Clemson getting in this year could prevent a potential one-loss Tennessee, Georgia or Alabama team from getting into The Playoff. All better. Clemson getting in could prevent a one-loss Ohio State or Michigan team from getting into The Playoff. Both better. And Clemson getting in could prevent a Big 12 Conference Champion that is the TCU Horned Frogs or a Pac-12 Champion that is the UCLA Bruins, USC Trojans or Oregon Ducks from getting into The Playoff. Even with all four of those teams looking more impressive on both paper and on the field than the Tigers.
An expansion of the College Football Playoff will end controversy and will end the arguments over who SHOULD and SHOULD NOT to be in the College Football Playoff. And this year, that controversy and those arguments are going to be centered on the Clemson Tigers — if they go undefeated.
Want More Sports News?
Get the biggest and best sports news sent directly to your inbox.