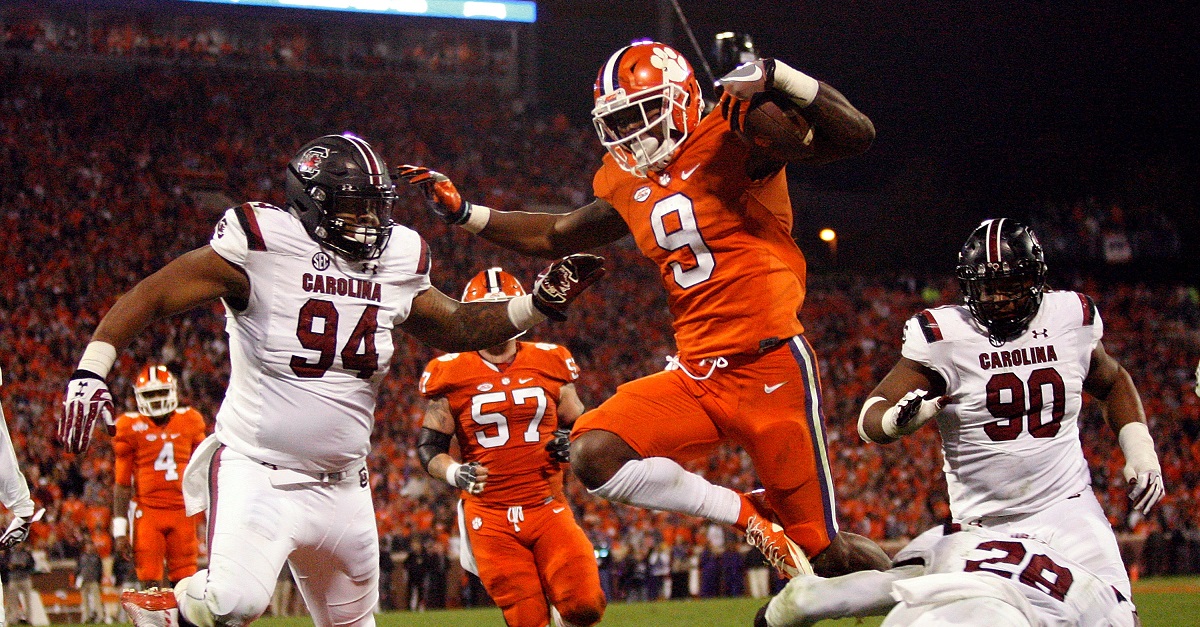 Tyler Smith/Getty Images
CLEMSON, SC - NOVEMBER 26: Wayne Gallman leaps into the endzone for a touchdown during the game against the South Carolina Gamecocks at Memorial Stadium on November 26, 2016 in Clemson, South Carolina. (Photo by Tyler Smith/Getty Images)
Clemson football beat South Carolina 56-7 for the third straight win in the series for the Tiger. However, it seems the win won't come without its controversy.
RELATED: Former Clemson coach admits to stealing signals from rival
A few South Carolina players are claiming that Clemson players were spewing some serious hatred before and during the game. Linebacker Bryson Allen-Williams accused the Tigers of showing them "disrespect" during the game.
"They called us N-words, some of the offensive linemen," Allen-Williams told reporters after the game. "They did a lot of nasty stuff. They called one of our defensive linemen—they used the N-word. One of their offensive linemen. I don't know which number," added Allen-Williams.
RELATED: Dabo Swinney showed Will Muschamp the ultimate sign of disrespect ahead of intense matchup
There was a bit of a dust up before the game as the two teams went at each other and there was some disrespect from Swinney towards Muschamp before the game as he ignored Coach Boom's attempt at a pre-game hand shake.
Receiver Terry Googer and defensive lineman Dante Sawyer also said they were victims of racial abuse.
Yikes. There might not be a way to find out if any of this is true, but it certainly won't make this rivalry any more civil.
[h/t SI.com]