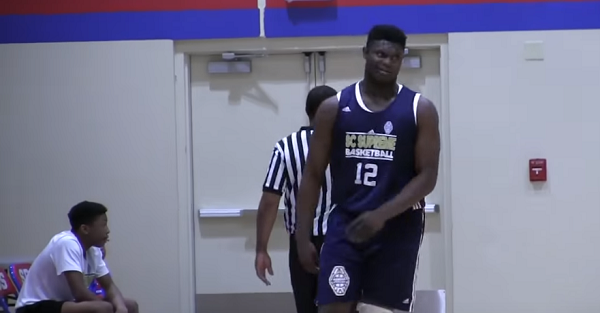 EliteMixTapes/YouTube
EliteMixTapes/YouTube
The Clemson Tigers apparently blew a rather big lead to the Duke Blue Devils. Not on the hardwood or anything, but on the recruiting trail. According to Zion Williamson's stepfather, somewhere along the way, Clemson dropped the ball.
Lee Anderson, who is Williamson's stepfather, put words to the idea the Tigers faltered down the stretch of the forward's commitment process.
"They did everything right. It's nothing against the coaches. Nothing against them at all," Anderson told TigerNet. "I told Clemson when they came in the other night, 'Somewhere along the way, you all had a mile and a half lead on the situation. I don't know what happened along the way but you all had a big distance.'
It was stunning that Williamson chose Duke over Clemson. Prior to the announcement on Saturday evening, nearly every reputable grassroots reporter fully expected the walking highlight reel to chose the Tigers.
Williamson, the third-ranked player in all of the 2018 recruiting class, joins an already stacked Duke core of commitments. Coach K had already landed the very top recruit in R.J. Barrett, as well as the No. 2 recruit in Cam Reddish. In turn, depending what recruiting service site you visit, the Blue Devils might have the top-three players in the 2018 class.