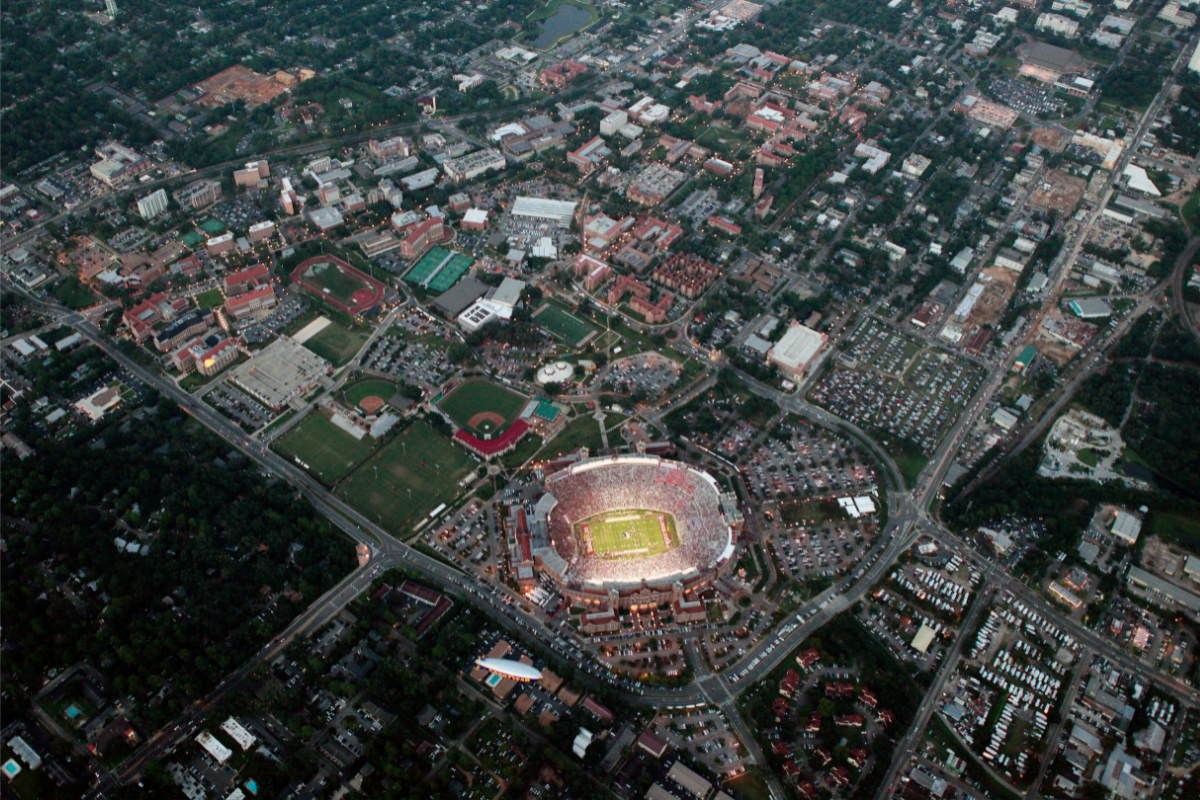 Photo by Jason Stephens/Replay Photos via Getty Images
The most important thing on a Saturday in the fall, other than college football of course, is the food you'll be eating. And if you're in Tallahassee, Florida, there are a lot of options.
Everyone has their preference on what food they pair with football, so it's key to have a variety. However, when it comes to watching the Florida State Seminoles on game day, make sure you check out the best restaurants in the city.
Whether you're planning on attending a Florida State University game at Doak Campbell Stadium, watching from your couch or sitting in a Tallahassee restaurant in midtown, there are some places we think you should visit for the perfect food to stuff your gullet before and during the Florida State game.
Obviously there are more places you could get good food from, but these places stuck out to me as spots we would definitely be interested for my game day snacks. Some may want a ton of appetizers while others want to sit in a steakhouse, Italian restaurant or bistro.
And even though most of these are made up on mostly American foods like burgers and pizza, there are always other options out there for those who crave Mexican, Cuban, Thai, Mediterranean, Japanese, Asian or French. Hell, tacos or ice cream on game day are an excellent choice if you're not a fan of fine dining.
Maple Street Biscuit Company
RELATED: Why Florida State Can Keep Using Chief Osceola & Renegade as Symbols
If you're getting ready for FSU to kick off at noon and you'd rather get some breakfast instead of burger or pizza, Maple Street Biscuit Company definitely has you covered with some Southern comfort food. And it won't leave you hungry, either.
This would be the perfect brunch meal if you are headed to the stadium for an early game and don't want to tailgate. Anything covered in gravy is going to be a great choice.
Bird's Aphrodisiac Oyster Shack
Burgers, pizza and gravy aren't the only options for a Saturday feast. You may want crab cakes, scallops or other types of seafood for an entree. Sushi in Florida is always a great option, and Bird's Aphrodisiac Oyster Shack is one of the places to go for it in Tallahassee.
They don't just serve seafood, though. They also have burgers, chicken, hot dogs and beer along with live music throughout the week. This may be the perfect place to go before a game or even afterwards to celebrate a 'Noles victory.
Shula's 347 Grill
Not everyone is a pro at cooking on a grill and doesn't have an option for tailgating. But if you still want your fix on grilled food, Shula's, named after the great football coach Don Shula and his 347 career wins, has a ton to choose from.
A restaurant named after a legendary football coach is the perfect place to eat before, during or after a Florida State game, giving you the sustenance you need to chant and chop as hard as possible.
Grub Burger Bar
Any place that has a burger with mac and cheese on it has my attention. This burger place located on Thomasville Road has a wide variety of food that would be perfect before a game. It has two words in the name that also catch my attentions: burger and bar. Need both of those on a Saturday during football season.
A burger is only as good as its sides, too. They offer the regulars like mac and cheese, fries and onion rings as well as some lighter options to pair with a ton of milkshakes, including some spiked with liquor.
Prime Time Lounge & Restaurant
Located on West Tennessee St, Prime Time Lounge & Restaurant not only has food and craft beer, but they also have sports on their televisions. So not only can you get all your pre-game food and drinks, you can sit and watch the game with fellow 'Noles fans while getting the bar food that'll make the game even more enjoyable.
They also have a happy hour special throughout the week, so it wouldn't be a bad place to kill time until the next Saturday.
BJ's Restaurant & Brewhouse
On game day, there are a few things I am looking for: grease, cheese, and beverages. BJ's has pizza, burgers, and beer among many other options and that gives me more options than I would even need. It is the perfect spot for some great food before or during a game, whether it is an early kickoff or at night.
Other Notable Options
Cypress Restaurant: A high-class restaurant that has different options like pasta and fish, but it opens at 5 p.m. This may be an option for after the game.
Kool Beanz Cafe: Also located on Thomasville Road, the menu is different every day, so you can always have plenty of different choices each time you go. It has a wide range of food, from walnut crusted trout to buttermilk Tabasco fried chicken.
Harry's Seafood Bar & Grille: Another eatery to get your fish fix.
Midtown Caboose: A train-inspired restaurant may be the one for you if it is a burger or sandwich you desire.
The Edison: They offer quite a few options throughout the day, from Italian food to BBQ. This is more of a sit-down restaurant, though, and not one many would be watching a game at.