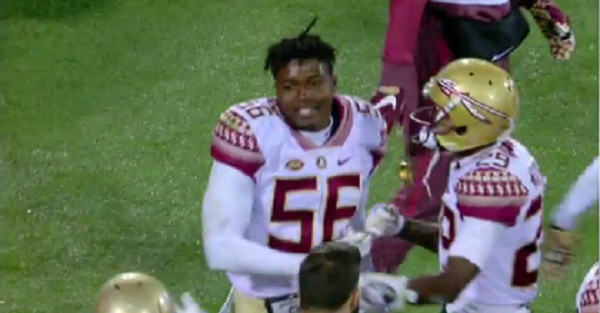 bbornstein33/Clippit
bbornstein33/Clippit
Florida State is not looking good against Clemson as they headed into halftime down 17-0. While it's understandable that the team might be upset, there is absolutely no reason why the hit below should take place on a return. FSU's Emmett Rice went head hunting and was ejected for this hit on a Clemson tackler:
Not only was that a blatant dirty hit, Rice was seen smiling afterward as he was being escorted off the field by an assistant coach.
That's absolutely disgusting and no matter how much you might hate a rival team, you don't ever go to hurt someone on purpose. You especially don't smile about it knowing there are cameras everywhere watching it. The announcers for the game also made it clear that the action was in excusable and chastised the young man as he headed off the field.