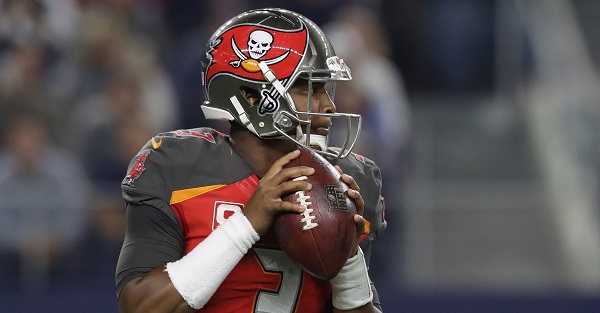 Ronald Martinez/Getty Images
ARLINGTON, TX - DECEMBER 18: Jameis Winston #3 of the Tampa Bay Buccaneers drops back to pass during the second half against the Dallas Cowboys at AT&T Stadium on December 18, 2016 in Arlington, Texas. (Photo by Ronald Martinez/Getty Images)
Jameis Winston's ill-conceived remarks in the midst of a speech to elementary school students have generated a ton of attention. Winston later walked back his comments, at least to some degree, but in the aftermath of his speech, Hall of Fame linebacker and former Tampa Bay Buccaneers standout Derrick Brooks weighed in on that matter.
Brooks, who also played at Florida State many years in advance of Winston before beginning his legendary NFL career, spoke with 102.5 FM (h/t JoeBucsFan.com) in Tampa earlier this week and he quipped "That?s the fishbowl you live in," in Winston's direction. Beyond that, Brooks provided some counsel in suggesting that Winston should not "go into a turtle shell" as a result of the incident, indicating that Winston should not stop his community service work but rather choose his words wisely.
This type of advice makes all the sense in the world, as it is never a bad idea for an NFL player (and budding start) to invest in the community. Still, Winston's off-field history combined with this particular speech shines an even brighter light on his everyday words and activities, leaving him considerably vulnerable to increased scrutiny should the talented quarterback step outside the line once again.