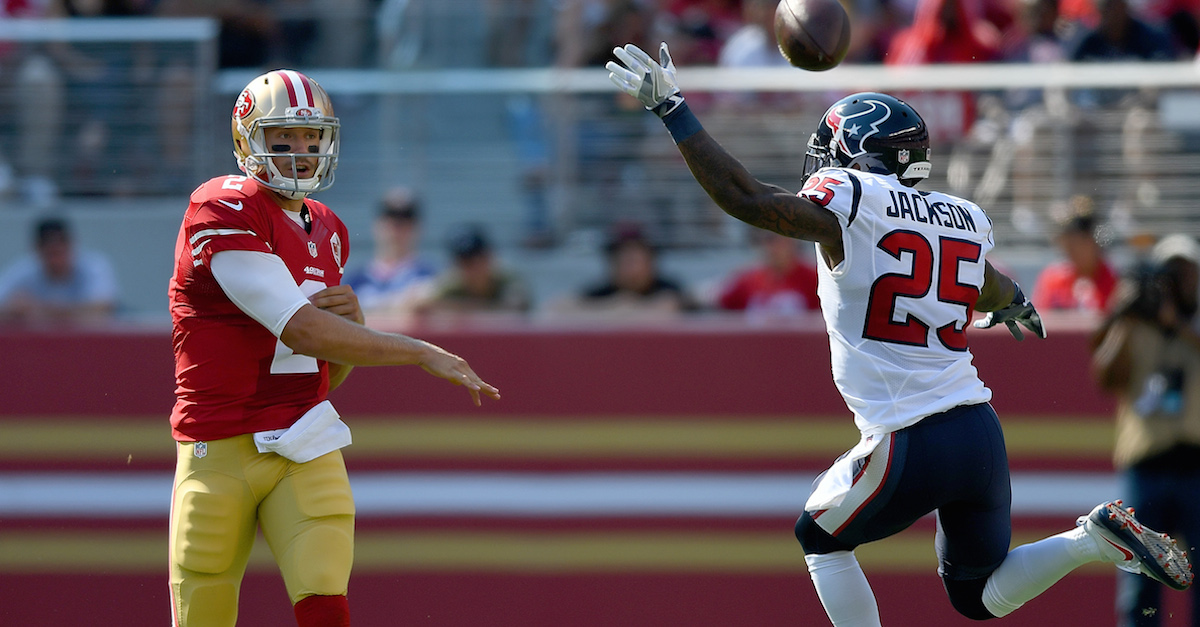 Thearon W. Henderson
SANTA CLARA, CA - AUGUST 14: Quarterback Blaine Gabbert #2 of the San Francisco 49ers gets his pass over the out stretched arm of cornerback Kareem Jackson #25 of the Houston Texans in the first quarter in a preseason game at Levi's Stadium on August 14, 2016 in Santa Clara, California. (Photo by Thearon W. Henderson/Getty Images)
The San Francisco 49ers have found a temporary solution to their quarterback problems. Just a few days after it was announced that Colin Kaepernick's back-up, former Buffalo Bills QB Thad Lewis, suffered a torn ACL, the 49ers signed free-agent Christian Ponder to a one-year deal. San Fran made the deal official on Tuesday, along with the announcement that Lewis is now on the Injured Reserve list.
The move was a definite one of need — prior to signing Ponder their two options with Kaepernick's 'dead arm' situation was going with Blaine Gabbert and rookie Jeff Driskel.
Getting Ponder in the mix, although he's been bouncing around the league since 2014, is a much better option that Gabbert and Driskel. Ponder came out of Florida State in 2011 as the 12th overall draft pick by the Minnesota Vikings. Ponder during his Minnesota career has appeared in 38 games (36 starts), completed 632 passes for 6,658 yards and 38 touchdowns. He also had 26 rushes for 639 yards and seven touchdowns, during his 2011-14 stint with the Vikings.
Ponder signed with the Raiders in March of 2015, and spent training camp with the team before being released on September 5, 2015. He later signed with the Denver Broncos on November 25, 2015, where he was inactive for two games for Denver and later released on December 8, 2015.
Get ready for Ponder versus Driskel, you guys!