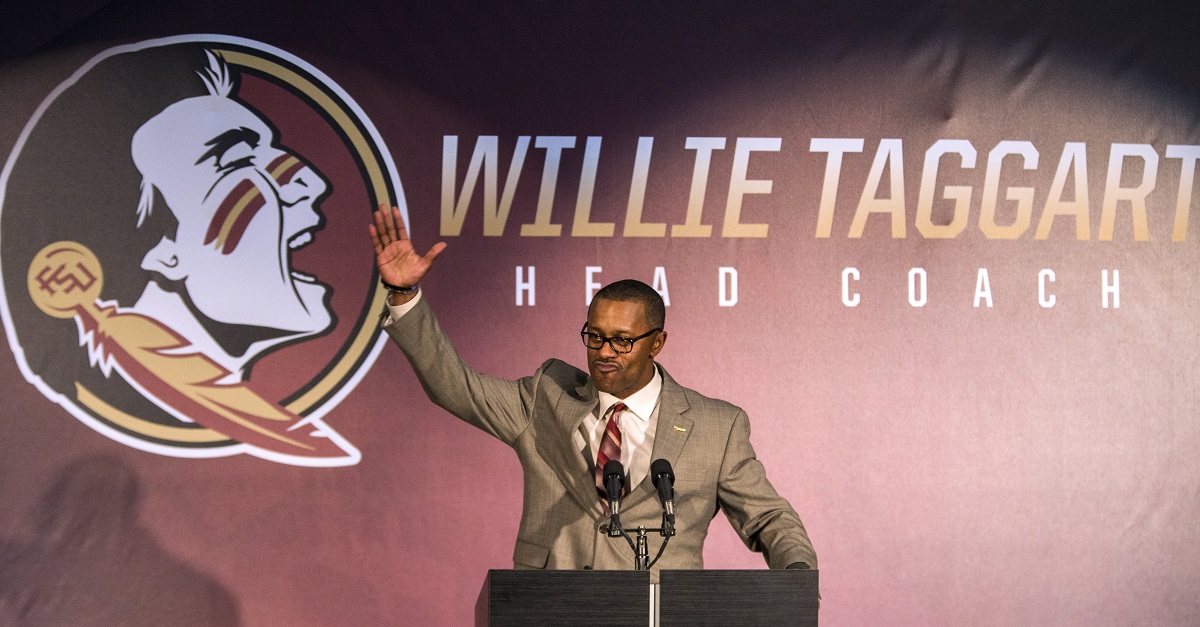 AP Photo/Mark Wallheiser
Willie Taggart does the Seminole chop as he is introduced as Florida State's new football coach during an NCAA college football news conference in Tallahassee, Fla., Wednesday, Dec. 6, 2017. (AP Photo/Mark Wallheiser)
New Florida State coach Willie Taggart is putting the finishing touches on his coaching staff with the Seminoles, and he has reportedly found his new offensive coordinator.
Yahoo Sports reported Pete Thamel reported that Taggart has hired Maryland offensive coordinator Walt Bell as the new OC and quarterbacks coach at FSU.
Related: New Florida State assistant left Michigan State despite Spartans stepping up financially
Bell became the Maryland OC at age 29, and he was the OC at Arkansas State before taking the job with the Terrapins.
Before his stop at Arkansas State, Bell was the recruiting coordinator and tight ends coach at North Carolina. He coached first-round pick Eric Ebron at UNC. He was also an assistant at Southern Miss, Oklahoma State, and a graduate assistant at Memphis. He played at Middle Tennessee and graduate in 2005.
Maryland's offense struggled in 2017, but the Terps also lost the first three quarterbacks on the depth chart to injury during the season.
So far, Taggart's staff includes running backs coach Donte Pimpleton, tight ends coach Telly Lockette, linebackers coach Raymond Woodie, Associate Head Coach and defensive line coach Odell Haggins, and defensive coordinator Harlon Barnett.
The Seminoles have room for a few more assistants, so expect Taggart to continue to build his staff as signing day approaches in February.