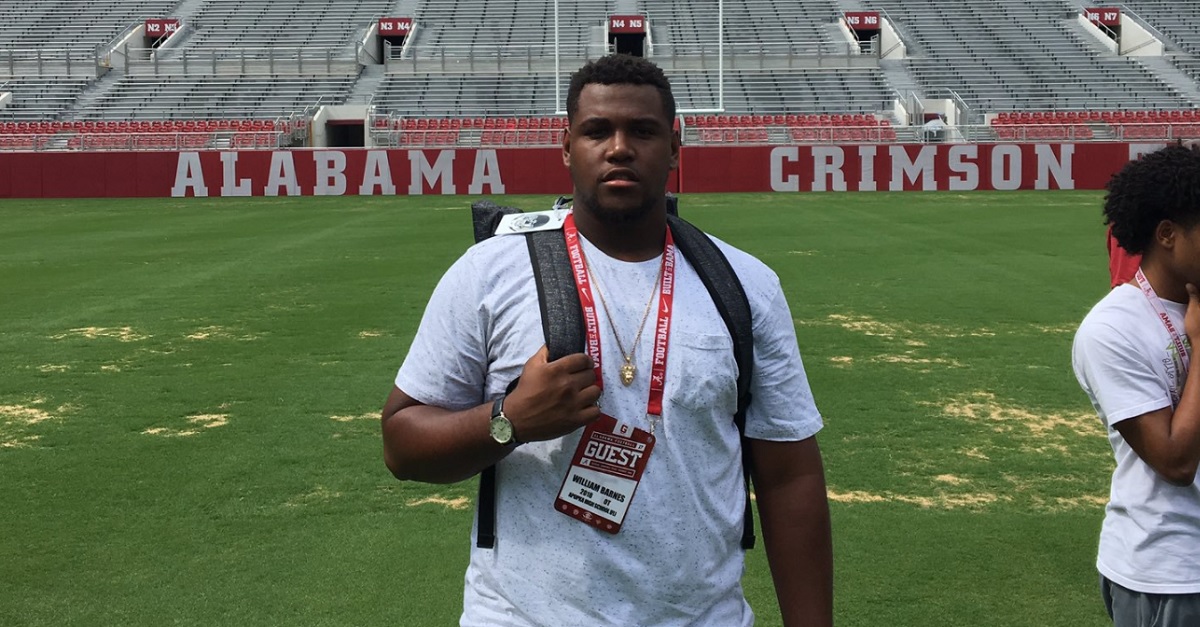 Twitter/William Barnes
William Barnes is one of the top offensive tackle recruits in the nation, so it's not surprising that he basically has his choice of big-time schools coming after his commitment.
Barnes, who's 6-foot-4, 325 pounds, has 20 offers, with schools like Auburn, Florida,and Alabama, among many others, all having thrown their hat in the ring for his services.
According to 24Sports, Auburn, Florida, North Carolina, Ole Miss, and Ohio State appeared to be the front-runners for his commitment, with Auburn, Ole Miss and UNC standing out as the top three. But according to a recent report, one of the aforementioned three schools has actually separated itself from the rest.
Frankly, the choice may be a bit surprising. Per Don Callahan's reporting, it appears the Tar Heels could be the favorite for Barnes after a weekend official visit to Chapel Hill:
William Barnes' long awaited North Carolina return didn't disappoint. In fact, it might have built upon UNC's perceived lead with the four-star offensive tackle.

"It puts them really high up in my recruiting list, honestly," Barnes said of his official visit to UNC over the weekend. "I really like UNC after this trip."
With major SEC schools like Florida and Auburn on the list, as well as a perennial contender in Ohio State, it is a bit surprising that North Carolina is making a serious play for the four-star offensive tackle from Apopka (Fla.). Still, the Tar Heels have apparently done a great job getting him on campus multiple times and getting him to connect with current coaches and players.
That seems to have made all the difference for North Carolina.
According to 247Sports, Barnes is the No. 5 offensive tackle in the 2018 class as well as the No. 46 overall recruit nationally. He's expected to make his decision on Signing Day in February