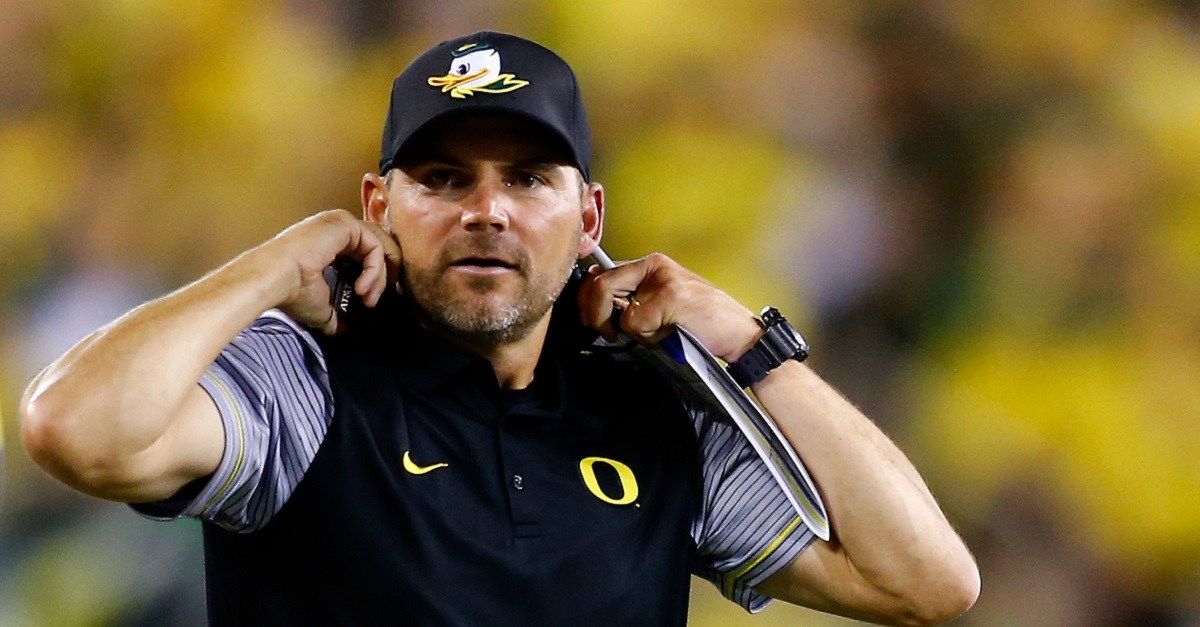 Jonathan Ferry/Getty Images
EUGENE, OR - SEPTEMBER 10: Head Coach Mark Helfrich of the Oregon Ducks during the game against the Virginia Cavaliers at Autzen Stadium on September 10, 2016 in Eugene, Oregon. (Photo by Jonathan Ferrey/Getty Images)
Things went south quickly for Mark Helfrich at Oregon. Just two seasons after competing in the national championship game against Ohio State, it appears that Oregon is prepared to move on from Mark Helfrich. According to USA Today, the Ducks have already begun their search for a new head coach.
Oregon has made preparations for a coaching search that will follow the eventual firing of Mark Helfrich, but the school has not officially pulled the trigger on the move as of late Saturday night, multiple people with knowledge of the process tell USA TODAY Sports.
Oregon is 4-8 on the season, and it appears that a 34-24 loss to in-state rival and 3-9 Oregon State could be the final nail for Helfrich's tenure.
Helfrich was 24-4 in his first two seasons as Oregon's head coach, but things started to go south as Chip Kelly's recruits started to leave the program. Transfer quarterback Vernon Adams was able to put together a respectable 9-4 season last year despite a failing defense, but Oregon's offense in 2016 simply couldn't do enough to make up for its defensive failures.
Oregon has had a bad defensive rep, but the team was actually very good on defense under Kelly, who had multiple Top 20 defense. This season, though? Oregon ranks 126th in the nation (out of 128) on defense, where they are giving up over 40 points per game.
It looks like Oregon will now be looking for a new coach after Texas and LSU have already taken two off the market. If the Ducks are indeed moving on, it will be an interesting search.