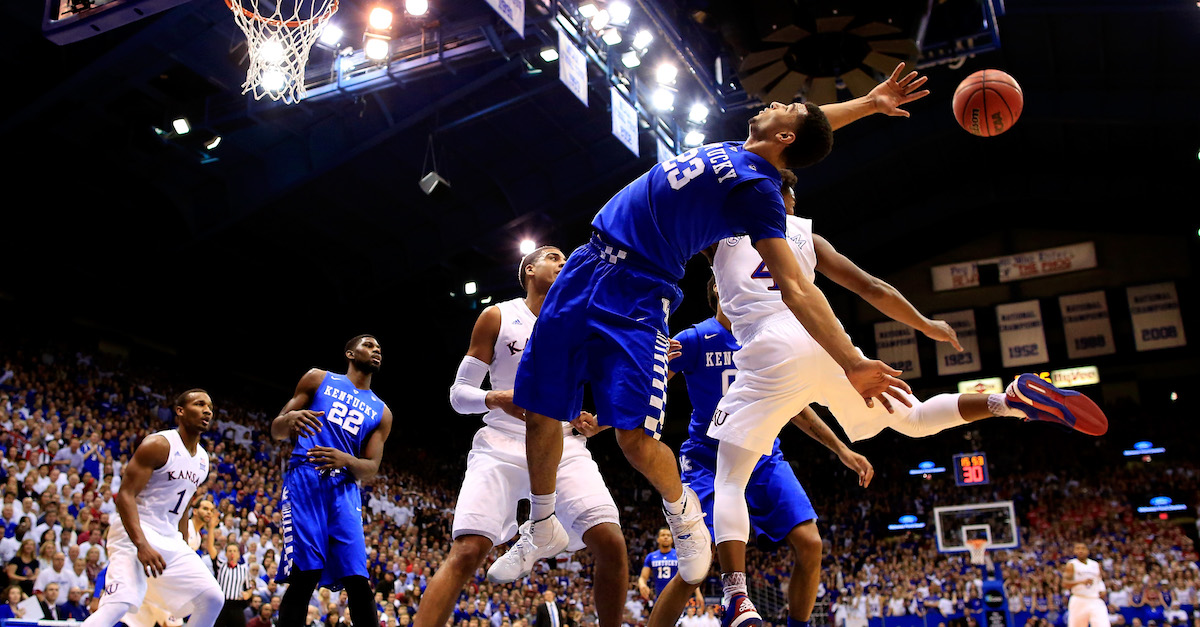 LAWRENCE, KS - JANUARY 30: Jamal Murray #23 of the Kentucky Wildcats reaches back for but misses a rebound during the game against the Kansas Jayhawks at Allen Fieldhouse on January 30, 2016 in Lawrence, Kansas. (Photo by Jamie Squire/Getty Images)
College basketball fans are some of the most rabid ones out there so it only makes sense that they are clamoring for anything basketball-related in these dry months of the summer. CBS has given us exactly what the fans want and that's a super early bracket for 2017.
It's got the usual suspects at the top like Kansas, Kentucky and Duke. The bracket also has several other schools from the Power Five conferences as well as the mid-major powerhouses like Gonzaga, San Diego State, Valparaiso and everyone's favorite bench mob in Monmouth.
(via CBSSports.com)
RELATED: Coach Cal is already praising his 2016 recruiting class
Duke and Kentucky have the top two recruiting classes in 2016 with some five-star recruits, but Duke gets the advantage with two returning starters in Grayson Allen and Amile Jefferson. Kansas is the lone Big 12 team in the top 16 and that speaks to both how good the Jayhawks will be this year and how down the conference might be as well.