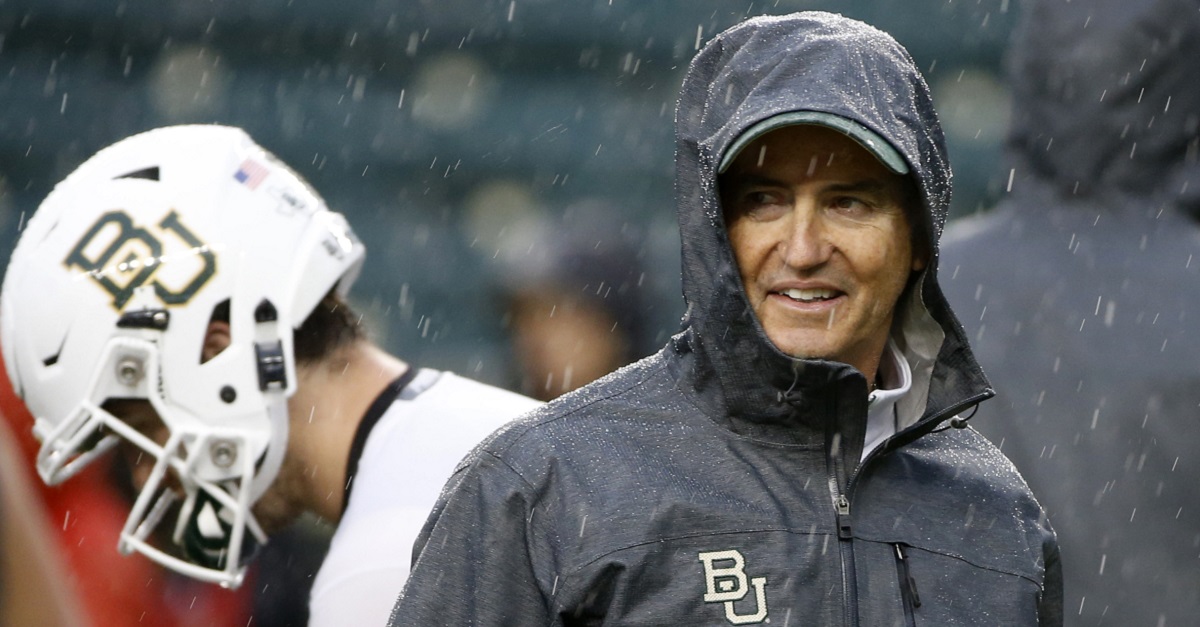 Ron Jenkins/Getty Images
WACO, TX - OCTOBER 24: Baylor Bears head coach Art Briles watches his team before the Iowa State Cyclones take on the Baylor Bears at McLane Stadium on October 24, 2015 in Waco, Texas. (Photo by Ron Jenkins/Getty Images)
Art Briles has had a difficult time finding a job ever since he was fired from Baylor in 2015. It doesn't sound like it is going to get any easier as 247Sports' Travis Haney says many people in the coaching industry still think Briles is "untouchable" after he and his staff at Baylor were accused of mishandling sexual assault and domestic violence allegations against football players.
RELATED: After initial rumors, Art Briles won't be considered for Power 5 OC job
Briles can't even get a coordinator job right now as evidenced by Auburn's response to rumors that he was being considered for their offensive coordinator position. The school was quick to distance itself from the former coach and it seems that he hasn't been left with many option of how to get back on a sideline.
Haney went on to give a couple specific examples of how Briles could end up making his way back into the FBS ranks. It would require some serious risk taking on someone else's end and there might be only two head coaches who could pull it off. From Haney's report:
"Briles needs a lot of help to get an FBS job again. That probably includes a big-name coach like Saban being willing to take a chance on him. A head coach who hires Briles as an assistant would need 'an incredible amount of political capital' in his job.
"I'm not even sure if someone other than (Nick) Saban or Urban (Meyer) could do it," a source told Haney. "Maybe so, but you know what I mean. They're the guys who have been able to take some chances recently, and they've made those situations work."
RELATED: Lane Kiffin shows his true colors yet again with reported despicable actions
Alabama took in Lane Kiffin despite his reputation for being almost impossible to deal with and took in Steve Sarkisian who was ousted at USC after his alcoholism became quite apparent and affected his ability to work. He rehabilitated both of their images and now Sarkisian is back as an offensive coordinator for the Crimson Tide while Kiffin is the head coach at FAU.
There is reportedly no interest from Alabama as of now and most people think Briles will get back into coaching, he'll just have to do it at the D-II or D-III level.
[h/t SEC Country]