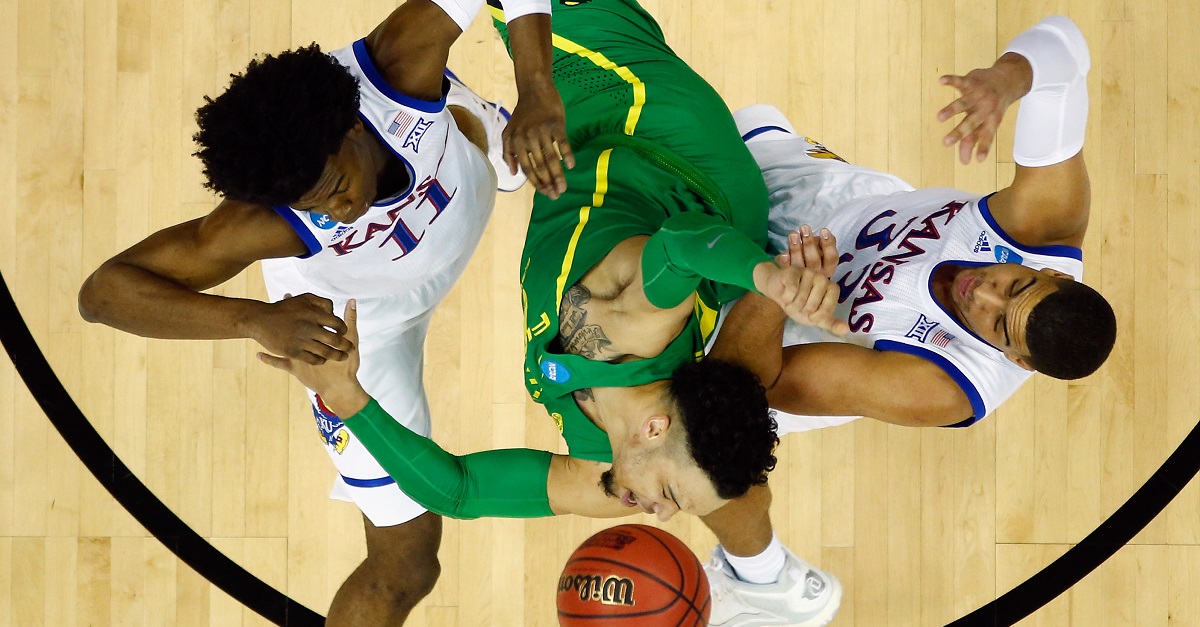 Jamie Squire/Getty Images
KANSAS CITY, MO - MARCH 25: Dillon Brooks #24 of the Oregon Ducks battles for the ball with Josh Jackson #11 and Landen Lucas #33 of the Kansas Jayhawks in the first half during the 2017 NCAA Men's Basketball Tournament Midwest Regional at Sprint Center on March 25, 2017 in Kansas City, Missouri. (Photo by Jamie Squire/Getty Images)
Former Kansas wing man Josh Jackson is expected to become a top-five pick in the upcoming NBA Draft, but it hasn't been quite that easy for him. He had a run-in with the law during his one year in Lawrence where he was charged with a misdemeanor count of criminal property damage for an incident that took place in December of 2016.
RELATED: Josh Jackson declares for NBA Draft
Jackson and his attorney pleaded not guilty to the charges in April, but have signed a diversion agreement according to The Kansas City Star. The agreement states that he has to attend anger management classes, refrain from alcohol and recreational drugs for a year and write an apology letter to the victim in this case and that all comes from the Douglas County court records.
Here is the description of the alleged event:
McKenzie Calvert was on the receiving end of the damage here and she has received some compensation for damages done and could receive more depending on how the next 12 months go. Jackson paid $158 in court costs, $150 in a diversion fee and $250 in restitution to Timothy Calvert, who is McKenzie?s father. If Jackson violates his year-long diversion, he has agreed to pay a restitution of $3,150.45 to Calvert, which is the full amount of damage done to the car. If Jackson completes the diversion agreement, the state agrees that the case against him in Douglas County District Court will be dismissed with prejudice.
While this is not a great start to a summer or a professional basketball career, it should only be a minor roadblock on his way to super stardom. This incident won't hurt his chances of going in the top five of the draft, but whoever drafts him will likely be keeping a close eye on the young man to make sure he stays on the straight and narrow.