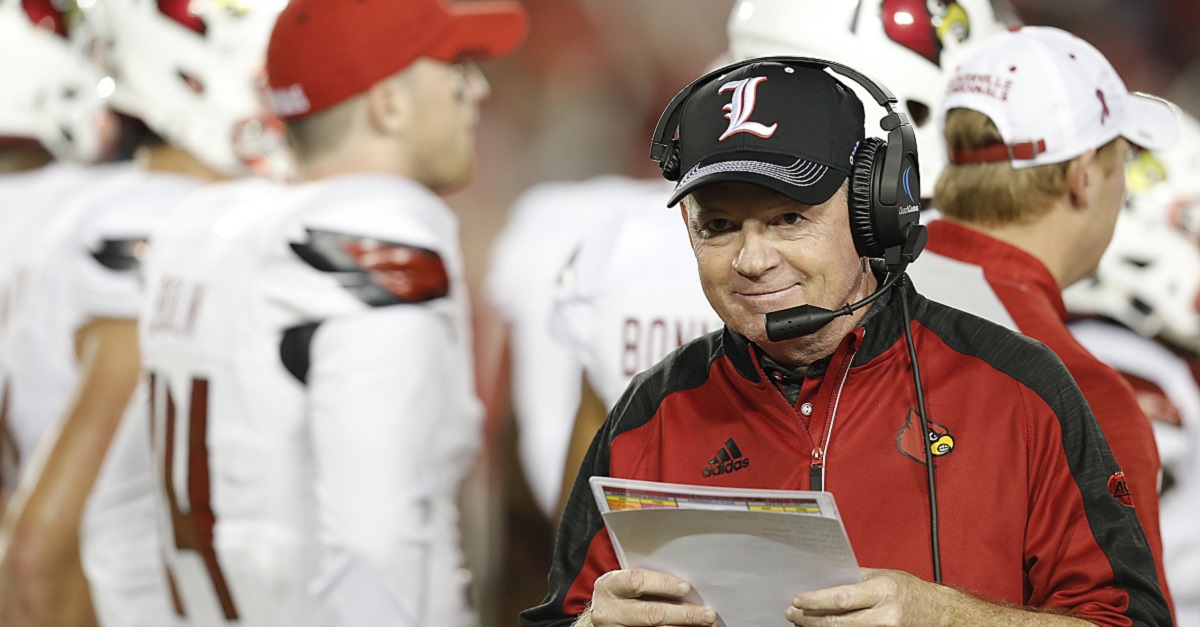 Thomas B. Shea/Getty Images
HOUSTON, TX - NOVEMBER 17: Head coach Bobby Petrino of the Louisville Cardinals on the sidelines against the Houston Cougars in the third quarter at TDECU Stadium on November 17, 2016 in Houston, Texas. Houston Cougars won 36 to 10. (Photo by Thomas B. Shea/Getty Images)
We didn't get the chaos that college football had last week, but we did have a great deal of movement thanks to Houston pulling off a huge 36-10 upset of Louisville on Thursday.
Louisville was previously No. 4 in my rankings and No. 5 in the College Football Playoff rankings. Who benefits the most from their loss? Let's take a look!
---
1. Alabama — SEC, 11-0
LW: 1 — Result: W, 31-3 vs. Chattanooga
This game was 3-0 Chattanooga at the end of the first quarter, and was only 14-3 Alabama deep into the third quarter. It was weird.
The Tide did eventually pull past Chattanooga — which is a better team than you might think — but still… you got to do better than that, and Nick Saban knows it.
2. Ohio State — Big Ten, 10-1
LW: 2 — Result: W, 17-16 vs. Michigan State
I thought the Buckeyes might have some problems with Michigan State, and when I heard it was going to be snowing this game… that pretty much confirmed a tight contest.
Ohio State sneaked away with the win in East Lansing thanks to a ballsy two-point conversion attempt by Mark Dantonio that probably didn't pan out the way he wanted it. Even after all of that, I still think Ohio State is the No. 2 team in the country and it's going to be really weird when they don't even win their conference.
3. Michigan — Big Ten, 10-1
LW: 3 — Result: W, 20-10 vs. Indiana
Pretty much all the things that applied to the Ohio State game apply here; game before a big rivalry contest, bad weather conditions, decent enough opponent hoping to play spoiler… The fightin' Harbaughs did play this game close in the first half, but they pulled away eventually and got the win thanks to having so much talent on defense.
4. Clemson — ACC, 10-1
LW: 5 — Result: W, 35-13 vs. Wake Forest
I guess Clemson got their Wake up call, am I right? Get it? Because they played Wake Forest…
OK, I'm sorry.
The Tigers took control of this one early by jumping out to a 21-0 lead in the first quarter, essentially allowing them to put the cruise control on for the rest of the game. The biggest positive for Clemson in this game was clearly running back Wayne Gallman, who had his first 100-yard rushing game in a month. Clemson had been lacking in the rushing game recently, and they are going to need Gallman to be healthy and running if they want a chance at a national title.
5. Washington — Pac-12, 10-1
LW: 6 — Result: W, 44-18 vs. Arizona State
Let's make this clear: if Washington wins out and wins the Pac-12 title at 12-1, they deserve to be in the Playoff. Sorry Penn State, don't care if you won the Big Ten title at that point; don't lose by 40 to Michigan next time.
After the big loss to USC last week, the Huskies rebounded by getting the easy win over a struggling Sun Devils team. A win over Washington State next week in the Apple Cup will send Washington to its first Pac-12 title game.
6. Penn State — Big Ten, 9-2
LW: 6 — Result: W, 39-0 vs. Rutgers
Rutgers is so bad… which is why this game was very awkward when it was 9-0 at halftime.
However, Penn State eventually kicked everything into gear and were able to pull away and shut out Rutgers just like Ohio State, Michigan, Michigan State…
Good lord, why is Rutgers a Power 5 team, Big Ten?
7. Wisconsin — Big Ten, 9-2
LW: 8 — Result: W, 49-20 vs. Purdue
This game was 3-0 Purdue after the first quarter, and I remember people on Twitter freaking out about what was wrong with Wisconsin.
The Badgers then scored 35 points in the second quarter, and that took care of all worries on that front. Wisconsin can clinch a spot in the Big Ten title game with a win over Minnesota in Camp Randall next week.
8. Oklahoma — Big 12, 9-2
LW: 10 — Result: W, 56-28 vs. West Virginia
This game wasn't as close as that score indicates… which is really impressive considering that score isn't close.
I've been doubting Oklahoma in recent weeks, and their defense had been a major reason for that doubt. However, the Sooners' defense has now turned in two good performances in a row, which has been enough to convince me that they are, in fact, a Top 10 team.
9. Colorado — Big Ten, 9-2
LW: 15 — Result: W, 38-24 vs. Washington State
Washington State had been playing great recently, so this was a big win for Colorado.
I thought Washington State's offense would dominate this game, but Colorado slowly adjusted over the course of the game to shut down Mike Leach's crew. Their defense is legit, and they are going to need another performance like this next week against Utah if they want to get into the Pac-12 title game.
10. Western Michigan — MAC, 11-0
LW: 12 — Result: W, 38-0 vs. Buffalo
Western Michigan got to host College GameDay on Saturday, and they didn't disappoint by delivering a completely beatdown of Buffalo. I know the #RowTheBoat squad has peaked in my Top 25, but when do they start getting some respect in the Playoff rankings? They should be ahead of Boise and Houston by this point over there.
11.Oklahoma State — Big 12, 9-2
LW: 18 — Result: W, 31-6 vs. TCU
The old adage that "Vegas knows something…" was put to the test in this game, as TCU was a four-point favorite heading into this game.
Well, Mike Gundy and his mullet didn't take too kindly to that, so they won by 25. The Cowboys can win the Big 12 in two weeks when the de-facto Big 12 title game against Oklahoma is played.
12. USC — Pac-12, 8-3
LW: 20 — Result: W, 36-14 vs. UCLA
I get that UCLA isn't good this year and are without their starting quarterback, but dominating a rival is always good and that's what USC did here.
USC is at 12 here, but there are going to be some that have them much higher and that's going to be a complete sham. ESPN had multiple commentators on Saturday put USC in their "Top 6" and listing them as a Playoff contender because "they are playing so great recently".
Yes, they are playing great recently. Hell, they could potentially be one of the best teams in the country right now. However, that doesn't mean we just get to sweep three September losses under the rug, even if they were to good teams.
I'm going to give USC similar advice to what I gave Penn State up earlier in the rankings: if you want in the Playoffs, don't lose by 50 to Alabama and then drop two more games on top of that.
13. Auburn — SEC, 8-3
LW: 14 — Result: W, 55-0 vs. Alabama A&M
Yes, there is an Alabama A&M, and Auburn beat them by a lot of points. That's about all I have to say about this game as the Tigers prepare for their Iron Bowl date with Bama.
14. Louisville — ACC, 9-2
LW: 4 — Result: L, 10-36 vs. Houston
Oh Louisville… you could have easily caused Playoff chaos if you had won this game. Instead… that's it for the Cardinals. Houston's defense made Lamar Jackson look mortal thanks to complete domination of the the line of scrimmage. Houston had ELEVEN sacks on the evening; what was Jackson supposed to do? Magic the ball into the endzone?
15. Florida State — ACC, 8-3
LW: 17 — Result: W, 45-14 vs. Syracuse
Florida State is still around and kickin' in the middle of the rankings. They destroyed Syracuse in the Carrier Dome, and the somewhat forgotten Dalvin Cook had himself a career day. Cook ran for 225 yards, which moved him into the top spot on Florida State's all-time rushing list.
16. Houston — AAC, 9-2
LW: NR — Result: W, 36-10 vs. Louisville
Tom Herman said prior to the game against Louisville that this was the first time his entire two-deep was healthy since the start of the season. I guess we should have listened to him.
Houston would actually be higher in our rankings if it weren't for that whole "losing to SMU" thing. However, if they are now completely healthy like Herman says, they are going to cause destruction on some poor team in the bowl season.
17. Florida — SEC, 8-2
LW: 19 — Result: W, 16-10 vs. LSU
So after all of that talk that Florida was "scared" to play LSU… how did that work out, Tigers?
This game was ugly and I hope that I never have to see any of it ever again. The big news out of it, though, is that Florida clinched the SEC East with the victory, which gives them the right to lose by 25 to Alabama in the SEC title game.
18. Boise State — MW, 10-1
LW: 21 — Result: W, 42-25 vs. UNLV
Running back Jeremy McNichols had another big game with four touchdowns, and I generally like what McNichols does, but there's something about Boise State that just isn't as inspiring as they used to be. Sure, the Mountain West is tougher than the old WAC, but the Broncos aren't winning by as much as they used to, and they really need to for it to be effective.
19. Navy — AAC, 8-2
LW: 23 — Result: W, 66-31 vs. East Carolina
The option can put up a lot of points when it is executed to perfection.
Navy did have a game earlier this year where they limited Notre Dame to just six possession for the entire game, but that wasn't the case here against a bad East Carolina team. The Naval Academy put up points with ease, and the win secured their spot in the AAC title game.
Navy will then, of course, have their annual game against Army after that.
20. Nebraska — Big Ten, 9-2
LW: 25 — Result: W, 28-7 vs. Maryland
Starting quarterback Tommy Armstrong is still out after being carted off the field in that Ohio State game a couple of weeks ago, but Nebraska still got a big win on Senior Day in his absence.
Nebraska still doesn't have a "signature" win, but they do play Iowa on the road next week. Sure, that doesn't really scream "signature" win either, but a 10-win season isn't something to scoff at, either.
21. Utah — Pac-12, 8-3
LW: 13 — Result: L, 28-30 vs. Oregon
A bad loss to a bad Oregon team… I wouldn't recommend doing that.
Utah now controls USC's destiny in the Pac-12. If Utah is able to beat Colorado next week, then the Trojans go to the Pac-12 title game. If not, then it's Colorado's chance, which would give the Buffs a legit shot at getting into the Playoff if they win.
22. West Virginia — Big 12, 8-2
LW: 9 — Result: L, 28-56 vs. Oklahoma
This was just embarrassing. The first-quarter beatdown, all the fans in Morgantown just leaving before the first half was even over… just awful.
23. Stanford — Pac-12, 8-3
LW: NR — Result: W, 45-31 vs. Cal
Stanford is back to being good again, which is good because Christian McCaffrey is still a very good running back. The Cardinal beat Cal for the seventh straight time on Saturday, and now all those wins over Stanford in the Pac-12 actually mean something.
24. North Carolina — ACC, 8-3
LW: NR — Result: W, 41-7 vs. Citadel
A victory over Citadel isn't much to brag about, but they were one of my first teams out for last week's rankings, so they rejoin the Top 25 with the win.
25. Washington State — Pac-12, 8-3
LW: 16 — Result: L, 24-38 vs. Colorado
Washington State had one of the most balanced attacks in the Pac-12 heading into this game, which is weird to think about when you remember that Mike Leach is their head coach.
Anyways, Colorado was able to stop that rushing attack dead in its tracks, and quarterback Luke Falk could only do so much to try and bail out the offense.
DROPPED FROM THE RANKINGS: LSU (11), Texas A&M (23), San Diego State (25)