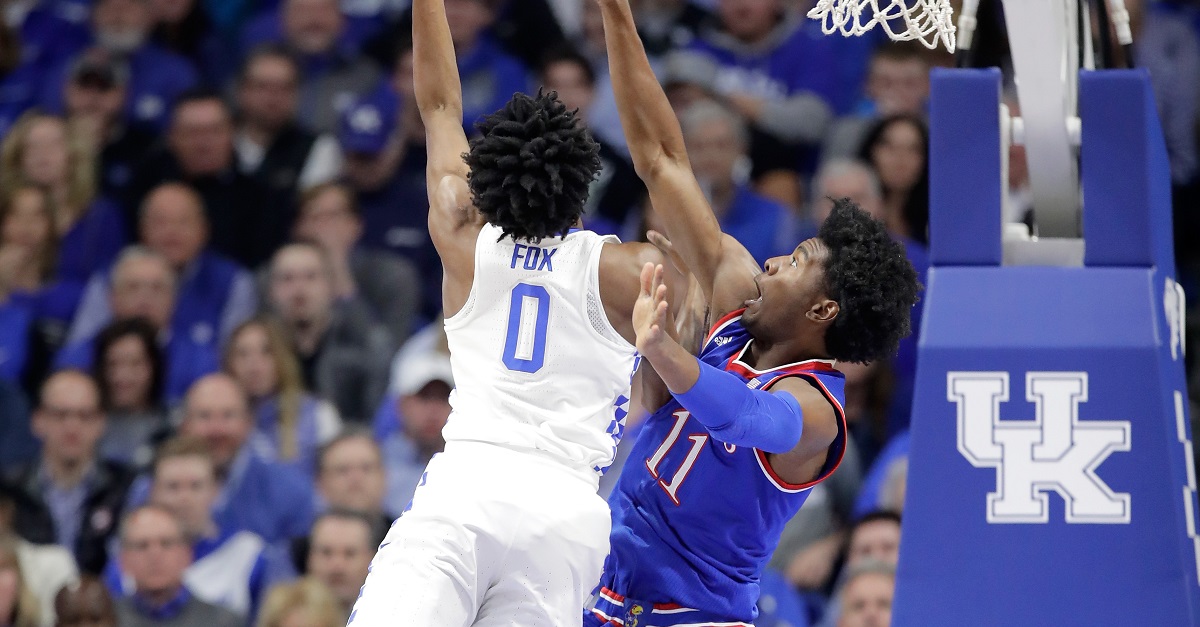 Andy Lyons/Getty Images
LEXINGTON, KY - JANUARY 28: Josh Jackson #11 of the Kansas Jayhawks defends the shot of De'Aaron Fox #0 of the Kentucky Wildcats during the game against at Rupp Arena on January 28, 2017 in Lexington, Kentucky. (Photo by Andy Lyons/Getty Images)
Jalen Rose is one of the more sensible personalities that has ESPN has retained in recent months, but his latest statement on the NBA Draft might make him look a bit ridiculous. He was on his show with friend and co-host David Jacoby and said that neither Lonzo Ball or Markelle Fultz should be the top pick in the NBA Draft later this month.
RELATED: Josh Jackson receives big legal news ahead of NBA Draft
While Josh Jackson is believed to be a top-five pick this year, he does have some major improvements that need to be made. His shooting mechanics need a tweak and he will have to put on some weight, but he should be a contributor for a team right away with his defensive versatility and tenacity on that side of the floor. Here's his quote on Jackson from the show:
?I?m telling you who to watch for. Josh Jackson. He?s going to be a player, and I haven?t really decided who to compare him to, but he?s going to be a lock-down defender who can play multiple positions, he can get his own shot off the dribble, he?s an improved jump-shooter, and he has more ?bounce to the ounce? at the hoop. And he has toughness. That?s one of the things that I look for that ain?t a measurable that?s going to be on the stat sheet. And so, if I?m picking No. 1, just in a vacuum, regardless of need, if I?m thinking I?m taking the best player, that?s actually who I?d personally take first overall.?
Jackson averaged 16.3 points and 7.4 rebounds per game for Kansas as a freshman this past season while shooting about 55 percent from the floor overall and 37.8 percent from beyond the three-point line. He also averaged three assists and 1.1 blocks per game.
[h/t The Spun]