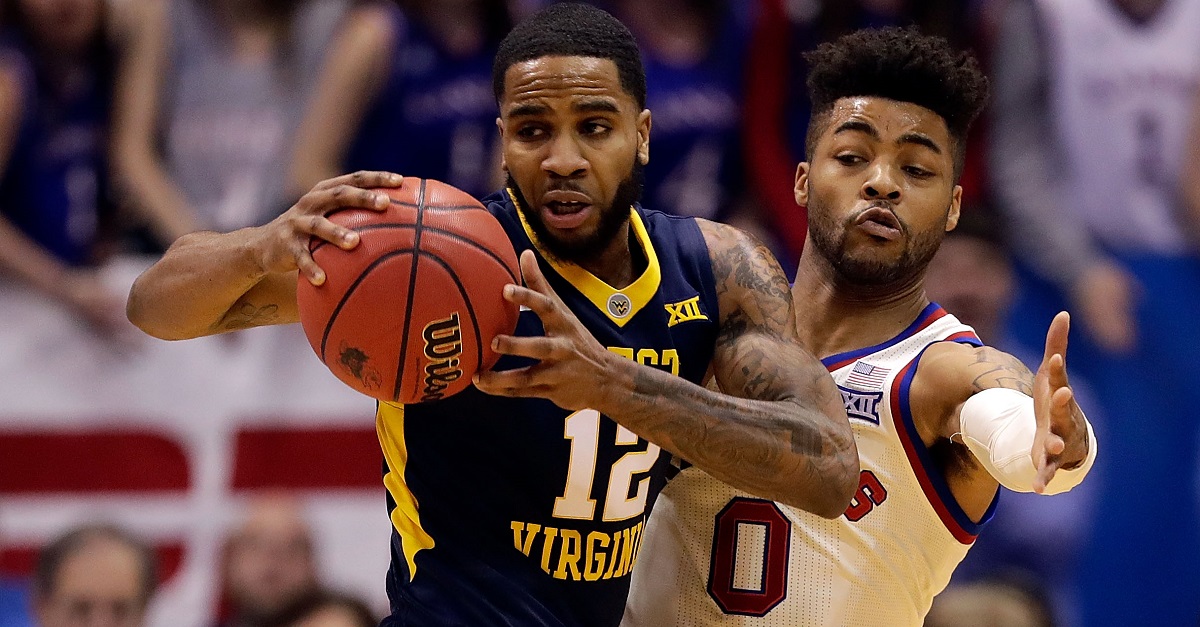 Jamie Squire/Getty Images
LAWRENCE, KS - FEBRUARY 13: Tarik Phillip #12 of the West Virginia Mountaineers controls the ball as Frank Mason III #0 of the Kansas Jayhawks defends during the game at Allen Fieldhouse on February 13, 2017 in Lawrence, Kansas. (Photo by Jamie Squire/Getty Images)
The Kansas Jayhawks were down by 14 points with 2:45 left in the game against West Virginia, but anything is possible at Phog Allen Fieldhouse. Kansas came back with a ridiculous run to eventually win 84-80.
RELATED: Kansas might have gotten away with another no-call on game-winning play
Frank Mason led the Jayhawks with 24 points and five assists while Devonte' Graham chipped in with 18 points and Josh Jackson had yet another double-double with 14 points and 11 rebounds. KU shot less than 35 percent from the field, but got 33 points from the free throw line and turned the Mountaineers over 21 times.
It was truly one of the greatest meltdowns this college basketball season and that film will not be fun to watch for the Mountaineers this week. Had WVU pulled off the upset, they would have become the first team to beat a Bill Self-coached team twice in the same season as long as he's been at Kansas.