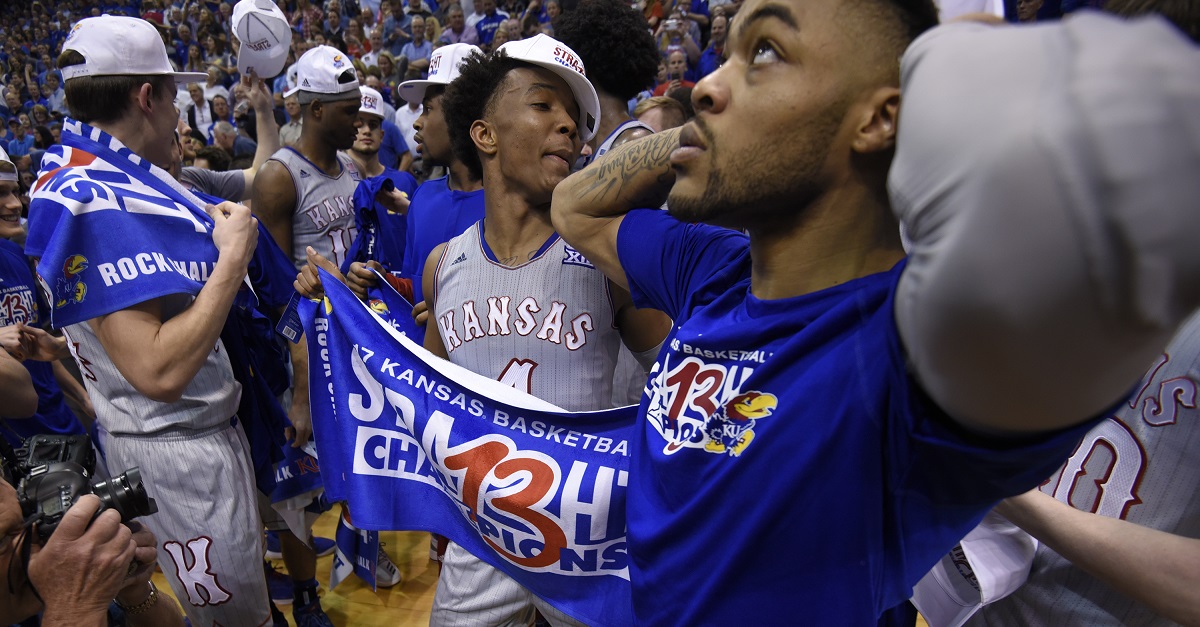 Ed Zurga/Getty Images
LAWRENCE, KS - FEBRUARY 22: Members of the Kansas Jayhawks celebrate after clinching their 13th straight Big 12 Conference Championship title with a 87-68 win over the TCU Horned Frogs at Allen Fieldhouse on February 22, 2017 in Lawrence, Kansas. (Photo by Ed Zurga/Getty Images)
Most Kansas players might have been out celebrating their 87-68 victory over TCU last night because it clinched yet another Big 12 regular season title for the Jayhawks and Bill Self, which is now the 13th in a row. There was one player who was busy going to jail for a pretty dumb reason as guard Devonte' Graham was booked and then released on a $196 bond.
According to KUSports.com, Graham was arrested after failing to appear in court over a minor charge.
Kansas guard Devonté Terrell Graham, 22, was booked into the Douglas County Jail late Wednesday night on suspicion of failing to appear for court, booking logs show. He was arrested on Jayhawk Boulevard.

The failure to appear charge stems from an expired tag ticket which was filed in late June in Lawrence municipal court case, court records show.
RELATED: Kansas' Bragg has suspension ended, charges dropped under several conditions
The arrest came on his birthday and could have easily been avoided if he had just paid for the tag ticket or appeared in court in the first place. It's doubtful that any real fallout or team punishment will come from this considering the severity of the "crime" in this instance.