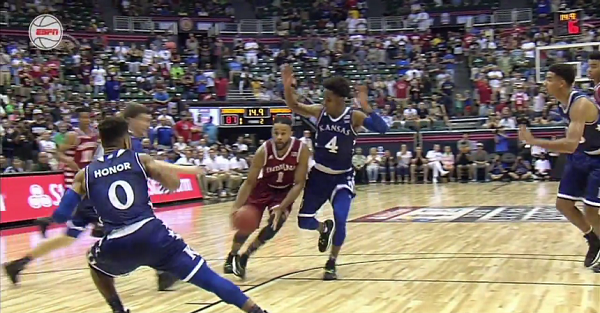 Clippit/bbornstein33
Kansas and Indiana capped off an epic first night of college basketball with a game that came down to the last play of the game and ended with a 103-99 win for theHoosiers. There were some crazy plays at the end of the game to get Kansas back in the game after being down seven with about a minute left. There were a few and-1 opportunities and point guard Frank Mason made it all happen to get to overtime:
Multiple players ended up fouling out of the game on both sides and Frank Mason was one of them at the end of the game. He finished with 30 points, nine assists and six rebounds while he got help from Devonte' Graham who had 16 points and also fouled out.
Indiana's James Blackmon had 26 points while Thomas Bryant had 19 points and 10 rebounds to go with OG Anunoby's 13 points. This was the instant classic we were all hoping for when the game was announced and it was the first season opening loss for Kansas since the 2001-02 season.