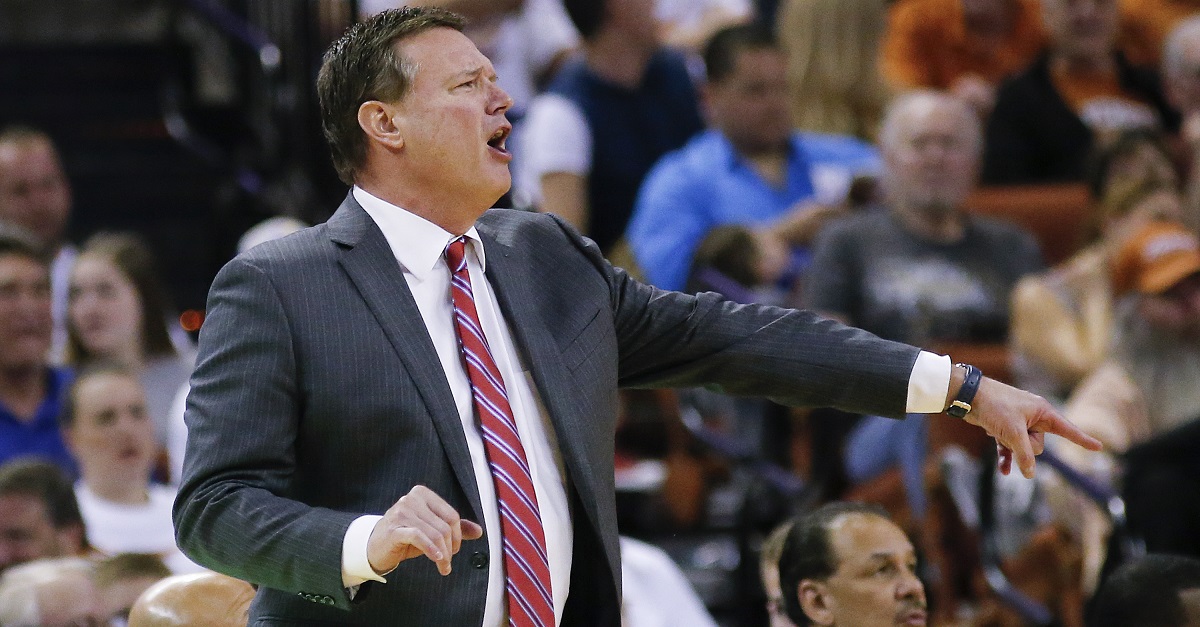 Chris Covatta/Getty Images
AUSTIN, TX - FEBRUARY 25: Head coach Bill Shelf of the Kansas Jayhawks reacts as his team plays the Texas Longhorns at the Frank Erwin Center on February 25, 2017 in Austin, Texas. (Photo by Chris Covatta/Getty Images)
Kansas has had to find creative ways to win some games this year as several players have been suspended for one reason or another. That hasn't stopped the Jayhawks from winning their 13th Big 12 title in a row though and now they will have to try to win their first game in the conference tournament without Big 12 Freshman of the Year Josh Jackson.
RELATED: Potential top pick in the NBA Draft finds himself in trouble with the law
Jackson is missing the game after receiving three traffic citations in a Feb. 2 incident. He was cited for duty upon striking an unattended vehicle, inattentive driving and improper backing after he backed into a vehicle and didn't leave his information, according to a Lawrence, Kansas court.
Coach Bill Self made it clear why Jackson was being suspended and that what he did was unacceptable as he told reporters on Wednesday, via AP:
"To me it was a pretty easy decision," Self said. "If it was a singular event, I obviously would not have (suspended Jackson). He handled it. He did what he was supposed to do afterward. But he should have left his information there, even if he's never had any experience. And he should have notified us. So based on some other we've dealt with, it was something I felt we had to do."
Kansas tips off against TCU at 2:30 p.m. on ESPN2 today (Thursday). Jackson is averaging 16.4 points, 7.2 rebounds, 3.1 assists and 1.1 blocks per game.