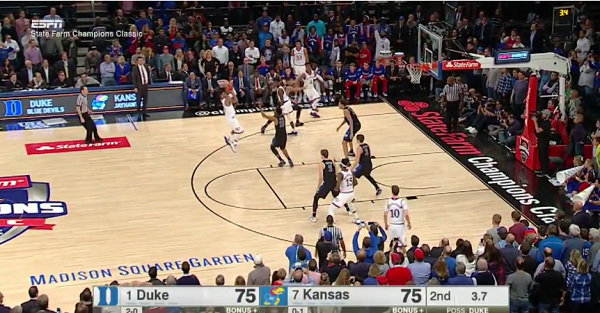 Clippit/bbornstein33
No. 1 Duke and No. 7 Kansas played one of the ugliest and toughest games early in the season. There were 49 fouls called and it was hard to get any flow going in this game, but there was one constant in the 77-75 Kansas win. That was Frank Mason and his steady hands cutting up the Duke defense.
RELATED: Ahead of game against Kansas, Duke will still hold out star freshmen
With the Jayhawks up three and less than 20 seconds on the clock, Duke freshman Frank Jackson hit one of the most clutch shots of his young career.
RELATED: Kansas' season opening win streak demolished in overtime in instant classic
The way this game was going we all thought there was overtime in our future, but Frank Mason had other plans. After his game against Indiana in Hawaii went to overtime he was not trying to play any more minutes.
Mason finished the game with 21 points, three assists, two steals and four rebounds. Freshman Josh Jackson had 15 points before he fouled out and Devonte' Graham had 13 points to go with three rebounds and three assists.
RELATED: ESPN analyst says Duke's top freshman shouldn't touch the court this year
Duke was playing without its top three freshmen and that really hurt the offense — along with that officiating issue — but Luke Kennard shined in their absence with 22 points, five assists and five rebounds. Matt Jones had 13 points, Amile Jefferson had 12 points and five boards and Grayson Allen finished with 12 points despite a poor shooting night (he finished shooting 4-15).