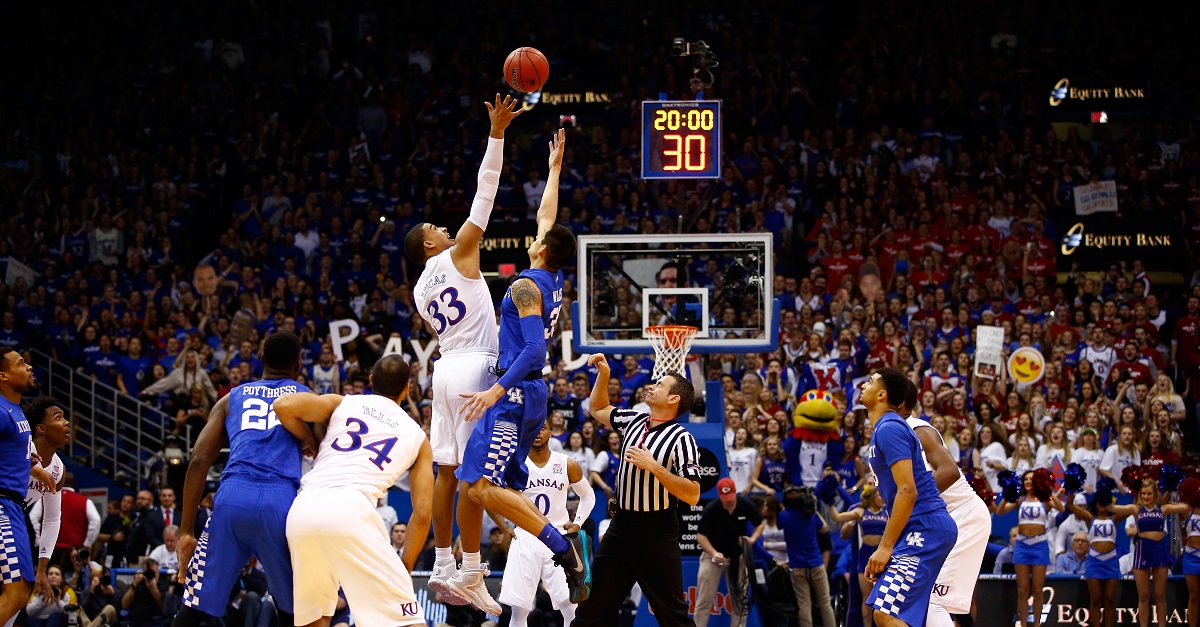 Jamie Squire/Getty Images
LAWRENCE, KS - JANUARY 30: The opening tip off during the game between the Kentucky Wildcats and the Kansas Jayhawks at Allen Fieldhouse on January 30, 2016 in Lawrence, Kansas. (Photo by Jamie Squire/Getty Images)
Kentucky is not one to shy away from a challenge or a chance to outshine anybody so the school is taking all the proper steps to blow everyone out of the water on Saturday. The Wildcats play Kansas as part of the Big 12/SEC Challenge and ESPN's College GameDay will be there as well.
RELATED: Two of the nation's biggest blue bloods will meet in Big 12/SEC Challenge
On top of GameDay, former stars coming back on campus and trying to break a world record for loudest crowd, the 'Cats are bringing back world famous boxing ring announcer Michael Buffer.
RELATED: Kentucky's Big Blue Madness featured one of the greatest announcers in the business
Buffer was in Lexington for Big Blue Madness and got the festivities off to an explosive start with a slightly different version of his classic catchphrase:
The game is set for a 6 p.m. tipoff and should be a great game to watch as both teams are coming off losses and will be desperate to get back in the win column.
[h/t Kentucky Sports Radio]