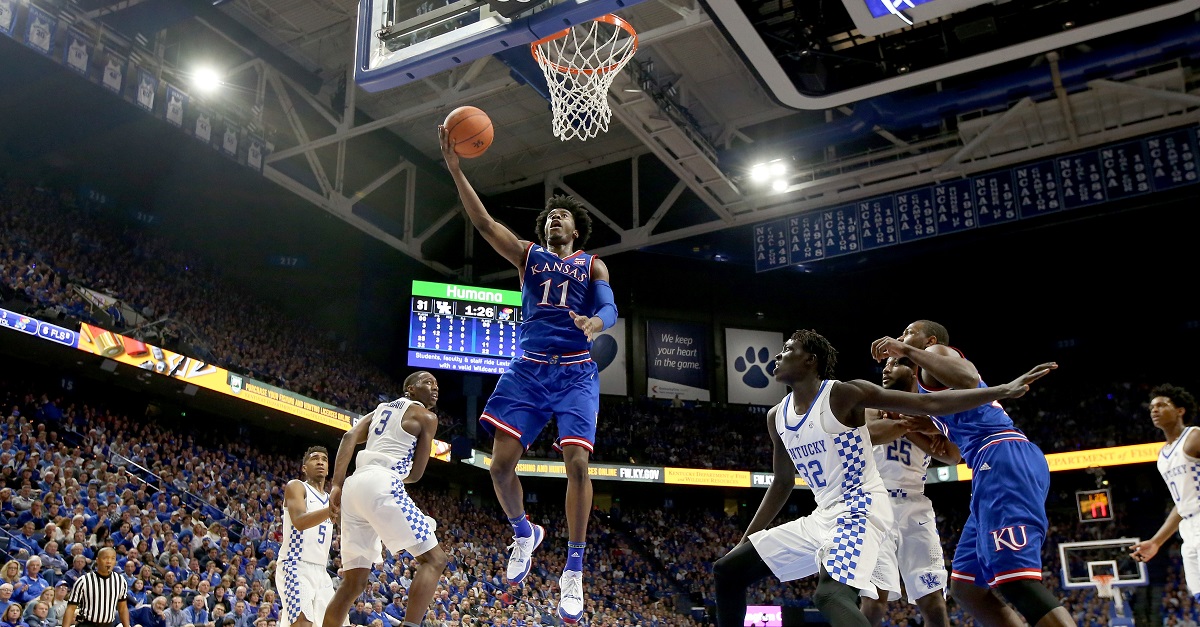 Andy Lyons/Getty Images
LEXINGTON, KY - JANUARY 28: Josh Jackson #11 of the Kansas Jayhawks shoots the ball against the Kentucky Wildcats during the game against at Rupp Arena on January 28, 2017 in Lexington, Kentucky. (Photo by Andy Lyons/Getty Images)
Kansas forward and likely top three pick Josh Jackson has officially declared for the NBA Draft in an announcement he made on Monday. The 6'8″, 207-pound forward has been mocked in the top five by all outlets and top three by most others. In fact, he has been mocked to go to the Lakers as the third pick by ESPN's Chad Ford.
RELATED: Devonte' Graham makes decision on NBA Draft
Jackson was the Big 12 Newcomer of the Year after averaging 16.3 points and 7.4 rebounds per game. He helped the Jayhawks to a 31-5 record and a berth in the NCAA Tournament's Elite Eight. He has shown supreme athleticism as well as a knack for rebounding the ball on both ends of the floor. He can handle the ball fairly well for his size, but will likely need help with his shooting mechanics as there is a major hitch there.
Jackson is expected to make an immediate impact on whatever team he lands with and could be a major force to be reckoned with if he can improve his shooting even though he did shoot a solid 37.8 percent from beyond the arc and 51.3 percent from the floor overall. However, he shot an awful 56.6. percent from the free throw line so there will have to be work done in that regard.
[h/t Associated Press]