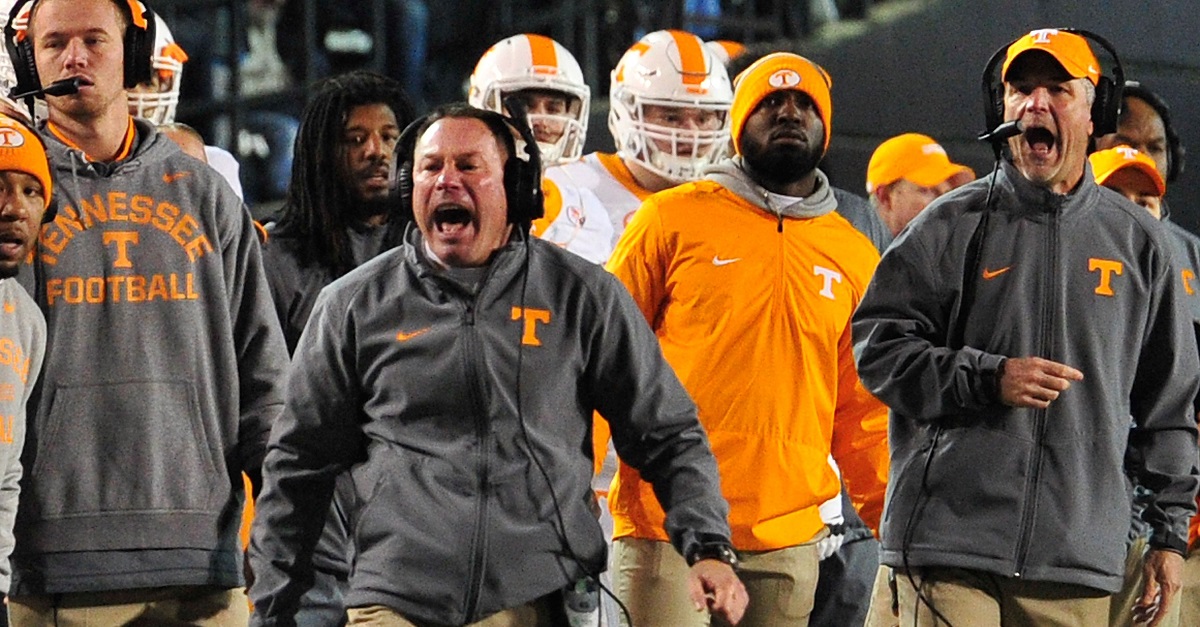 Frederick Breedon/Getty Images
NASHVILLE, TN - NOVEMBER 26: Head coach Butch Jones yells during the second half of a game against the Vanderbilt Commodores at Vanderbilt Stadium on November 26, 2016 in Nashville, Tennessee. Vanderbilt defeated Tennessee 45-34. (Photo by Frederick Breedon/Getty Images)
Tennessee has finally hired a new athletic director in former Kansas State AD John Currie. They passed up the likes of legendary UT coach Phillip Fulmer and former associate athletic director for football David Blackburn to hire Currie away from K-State. There are some who are not happy with the hire as they would have preferred either of the other candidates and it looks like their anger might be well founded.
RELATED: Former Tennessee great crushes Vols administration for passing on legend Phillip Fulmer for AD job
One Kansas State beat reporter said that Currie's  relationship with the living coaching legend that is Bill Snyder. GoPowercat.com's Ryan Wallace said this week on WKGN's "The Drive" in Knoxville that Currie did not have a great relationship with Wildcats coach Bill Snyder.
"Over the course of the last several years, he and Bill Snyder did not see eye-to-eye on a lot of things.When you're in a one-on-one conversation with Bill Snyder, as we've been told there has been numerous meetings between Bill Snyder and John Currie one-on-one, and they didn't go very well very often. In one particular instance, Bill Snyder was getting up to leave the conversation and it wasn't one that I guess was going well as far as he had seen. John Currie tells Bill Snyder to 'sit his ass down,' (and) that doesn't really go over very well."
That's not generally how you treat the school's best football coach in its history and that obviously won't sit well with Kansas State or Tennessee fans. If he's willing to talk like that to a coach who's done almost everything for that school's football program, how will he talk to a guy who's only been there four years in Butch Jones' case?
RELATED: Tennessee hires John Currie as new AD
There are also rumors out there that Curries is a micro manager when it comes to his sports programs so that could prove to be less than ideal as well for a lot of coaches in Knoxville. Looks like every coach will need to be on their toes and looking over their shoulders the way Currie interacts with his coaches. He was the AD at Kansas State since 2009 and was at Tennessee in 1997 for several years holding a myriad of different titles within the athletic department.
[h/t Gridiron Now]