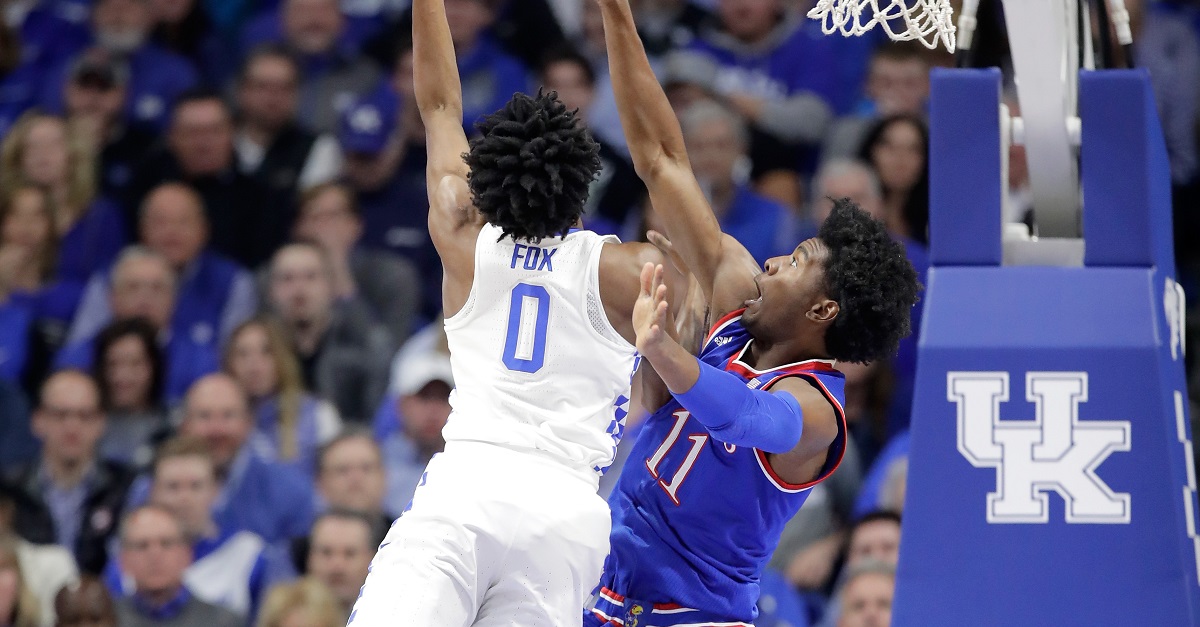 Andy Lyons/Getty Images
LEXINGTON, KY - JANUARY 28: Josh Jackson #11 of the Kansas Jayhawks defends the shot of De'Aaron Fox #0 of the Kentucky Wildcats during the game against at Rupp Arena on January 28, 2017 in Lexington, Kentucky. (Photo by Andy Lyons/Getty Images)
Kansas basketball has not had a very good time off the court this season with multiple players finding themselves in trouble with the law. The latest is projected top-5 pick Josh Jackson who was charged with misdemeanor property damage. Here's an account of what happened:
RELATED: Kansas player arrested on his birthday for the dumbest reason
So he allegedly kicked the door and rear taillight of the vehicle during a dispute that allegedly occurred after the woman threw a drink in the face of Jackson?s friend. Charges are for damage less than $1,000. He becomes the latest in a line of Kansas players to get in trouble with the law.
Devonte' Graham, Lagerald Vick and Carlton Bragg have all received charges for separate incidents. Bragg and Vick served suspensions for their actions while Graham's issue was a tag ticket and fines that accompany not paying it.
Earlier this month, reports indicated that Jackson and teammate LaGerald Vick were persons of interest in the case. The victim, according to the Kansas City Star, was a player on Kansas?s women?s basketball team, McKenzie Calvert. Calvert is the same student against whom Vick was found to have ?likely? committed domestic violence against in 2015, according to the Star.
Jackson is averaging 16.5 points and 7.1 rebounds this season for Kansas and is expected to go in the top three of the NBA Draft and possibly even take the top spot if the right team gets the pick.
[h/t SI.com]