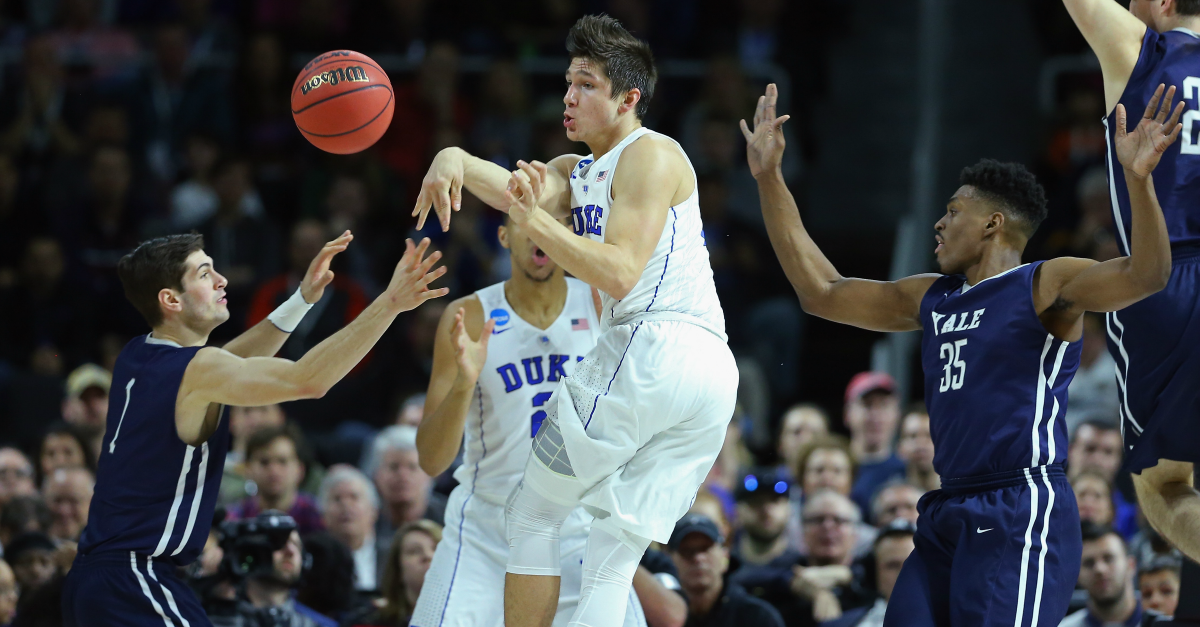 The college basketball season is even farther away than the football season, but that doesn't mean we can't get some top 25 action already. We've had a few different people give us their lists of top teams so now it's ESPN's turn to give us a list.
RELATED: Ken Pomeroy releases his way too early top 10
This list is based on the fact that 2016 recruiting classes are pretty much set and the guys who entered their names into the Draft have either withdrawn or stayed in it. So guys like Melo Trimble (Maryland) and Justin Jackson (UNC)
RELATED: Justin Jackson just shifted the balance in the ACC with this decision
Here's the list in its entirety:
1. Duke
2. Villanova
3. Kentucky
4. Kansas
5. Virginia
6. North Carolina
7. Oregon
8. Wisconsin
9. Xavier
10. Michigan State
11. Indiana
12. Arizona
13. Louisville
14. Purdue
15. West Virginia
16. Gonzaga
17. UCLA
18. Maryland
19. Saint Mary's
20. Creighton
21. Rhode Island
22. Cincinnati
23. Florida State
24. Connecticut
25. Syracuse
Rhode Island and Florida State are relative newcomers to a preseason top 25 list and hopefully will stay there for a bit as it could make the season much more interesting. The big dogs like Louisville, Kansas, Kentucky, UNC and Duke are all about where everyone expects them to be considering their great recruiting classes for this year.
Purdue is back in the top 25 thanks to the return of Caleb Swanigan who decided he wasn't ready for the NBA yet and Oregon is a nice sight to see in the top 10 after a season where they took down Duke in the Sweet 16 and ultimately lost to Oklahoma and Buddy Hield in the Elite Eight.