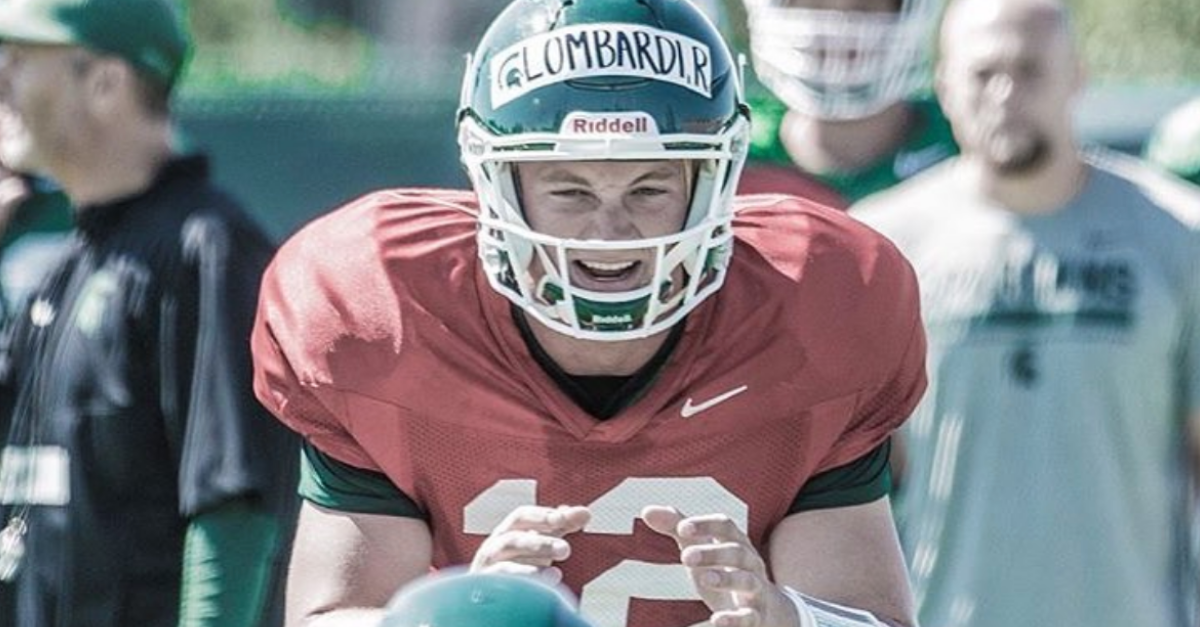 Instagram: @rockylombardi12
If the narrow loss at Arizona State last weekend wasn?t already bad enough, Michigan State now has to make a drastic switch to replace one of its trusted specialists. The decision isn?t exactly what anyone would expect, either.
A hit on the right shin by a helmet in the fourth quarter last Saturday has left Spartans senior punter Jake Hartbarger sidelined for six to eight weeks with a bone bruise and possibly a small fracture. So, head coach Mark Dantonio might be turning to his backup quarterback, redshirt freshman Rocky Lombardi, to handle the punting duties when Michigan State plays at Indiana on September 22.
No. 25 Michigan State, 1-1, has another punter on the roster in freshman William Przystup, a product of Oviedo (FL) in Orlando, and redshirt freshman kicker Tyler Hunt could take over as the team?s punter, too, but why use backup quarterback Rocky Lombardi? The answer for Dantonio is easy.
?Rocky is a great athlete and he?s punted before? Rocky has the ability. He needs to wear the right shoe and take the brace off and work it a little bit, but he?s an outstanding athlete. I feel comfortable that with a quarterback back there that we will have a guy back there that understands pressure.? ? Mark Dantonio
It makes perfect sense. If you have someone capable of doing the job and you trust him, why not just go with it? Especially since nobody is supplanting junior Brian Lewerke as the starting quarterback.
Lombardi, who hasn?t taken a snap at quarterback this season, booted a punt against the Sun Devils when Hartbarger went down, and has some experience from his days at Valley High School in Cliva, Iowa.
Obviously there are a couple of weeks to figure it out. Luckily the Spartans and Dantonio don?t have to make a decision immediately. It just will be weird to see a college football team use a backup quarterback as the starting punter if it happens.