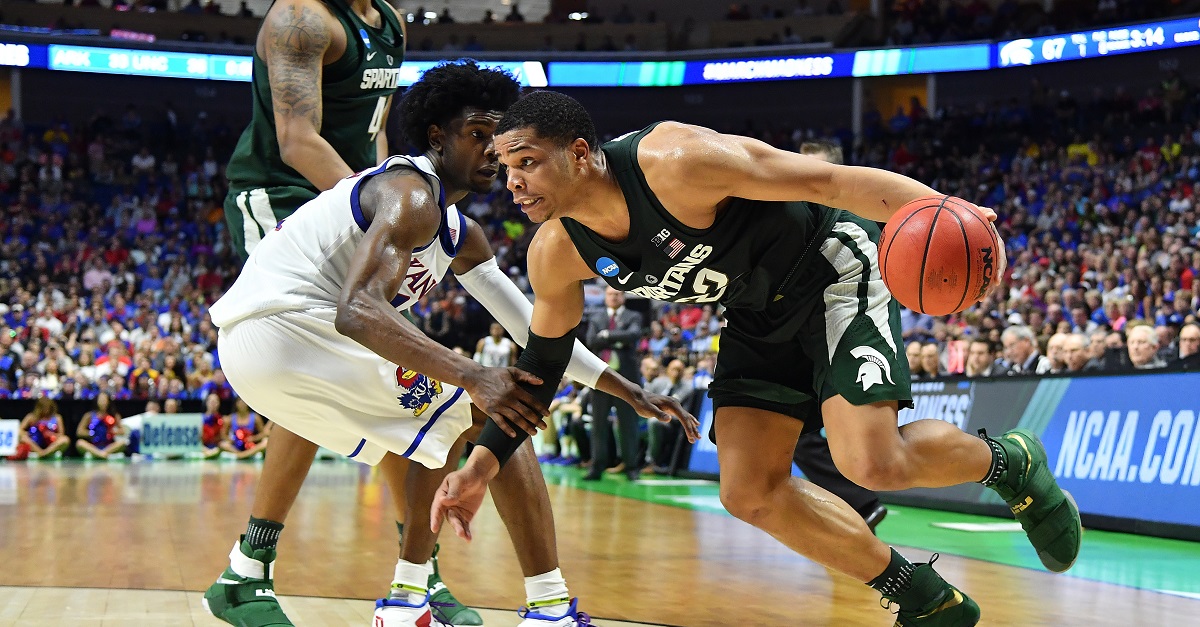 J. Pat Carter/Getty Images
TULSA, OK - MARCH 19: Miles Bridges #22 of the Michigan State Spartans drives to the basket defended by Josh Jackson #11 of the Kansas Jayhawks during the second round of the 2017 NCAA Men's Basketball Tournament at BOK Center on March 19, 2017 in Tulsa, Oklahoma. (Photo by J Pat Carter/Getty Images)
In an age where one-and-dones are a dime a dozen, there are always the select few that decide to come back for another year of school despite being a lock as a lottery pick. This year has seen a couple of those guys now in Texas A&M's Robert Williams and now Michigan State's Miles Bridges. Adrian Wojnarowski of The Vertical is reporting that Bridges will stay for a sophomore season despite being projected as a lottery pick in this year's NBA Draft.
RELATED: Another Kentucky standout makes his NBA Draft decision
Sources are telling The Vertical that Bridges intend to bypass the draft this year even though everyone talking to him says to enter and likely get taken with one of the first 14 picks. However, he could take through the weekend to make his decision, but it is sounding like he is determined to come back and play another year for coach Tom Izzo and improve on his team's second round ousting in the NCAA Tournament.
The 6'6″ Bridges averaged 16.9 points, 8.3 rebounds and 2.1 assists as a freshman for the Spartans. He will likely get a lot more time at small forward next season for a Spartan squad that is likely to be ranked in the top five for the preseason. His extra time at the position should help him make a better transition to the NBA as he was playing a few different positions for an MSU team that lacked serious depth just about everywhere.