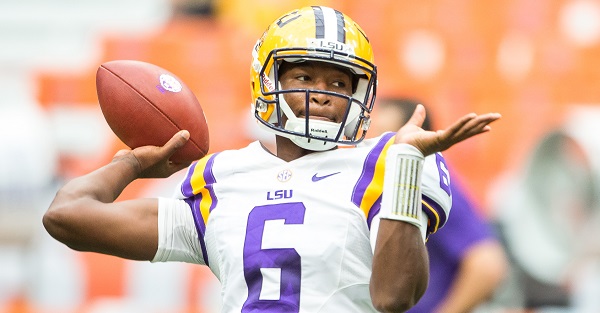 Brett Carlsen/Getty Images
SYRACUSE, NY - SEPTEMBER 26: Brandon Harris #6 of the LSU Tigers warms up before the game against the Syracuse Orange on September 26, 2015 at The Carrier Dome in Syracuse, New York. (Photo by Brett Carlsen/Getty Images)
Brandon Harris is no longer a member of the LSU football program but he apparently looks back fondly on his time under former head coach Les Miles. On Friday, the graduate transfer quarterback spoke with 104.5 FM ESPN in Baton Rouge and, among the topics of conversation was the man who brought Harris to Baton Rouge in the first place.
Related: No. 3 overall recruit Zamir White may have a favorite for his recruitment
While much of the interview was run-of-the-mill, Harris slipped in a bold proclamation about Miles and his place in college football history.
"Les Miles will go down, I think, as one of the greatest coaches in the history of college football. With his ability to lead a group of young men and so on."
This is, of course, a wildly hyperbolic statement. Miles did enjoy big-time success in Baton Rouge, including a national championship victory. However, his tenure ended poorly at LSU to the point where he was relieved of his duties during the 2016 season.
Is Miles an excellent college football coach with an extended track record of success? Absolutely. In the same breath, Harris probably as a bit of inflated view of his accomplishments and, in truth, it is hard to blame him considering the close relationship that the two undoubtedly shared during their joint tenure.