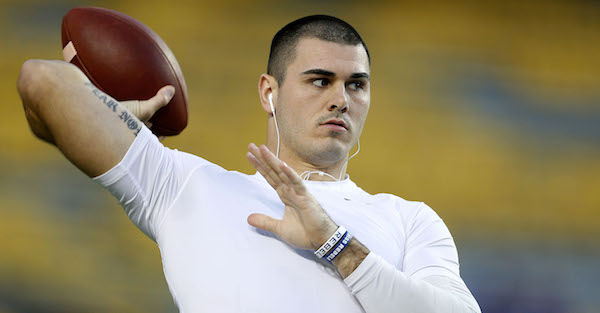 Jonathan Bachman/Getty Images
BATON ROUGE, LA - OCTOBER 22: Chad Kelly #10 of the Mississippi Rebels warms up before a game against the LSU Tigers at Tiger Stadium on October 22, 2016 in Baton Rouge, Louisiana. (Photo by Jonathan Bachman/Getty Images)
Ole Miss quarterback Chad Kelly was, quite easily, the most famous college football player left off the list for the 2017 NFL Draft Combine. If that seems odd, that is probably because it is. In fact, Kelly was reportedly on the initial list to work out and measure in Indianapolis but, for whatever reason, the former SEC signal-caller was omitted when the final group was selected.
Now, though, it appears Kelly could be ready for a drastic step with regard to the combine. He might just show up anyway.
Related: Top UGA defender hospitalized, reportedly withdrawn from classes
Kelly's agent shed light on this potential decision and, frankly, it would be hard to blame him in this case. While Kelly probably won't be selected within the first few rounds of the 2017 draft, he was a highly accomplished player for the Rebels and, at the very least, probably earned the right to showcase his raw skills in front of professional scouts and front office members.
Whether this is a serious "plan" for Kelly remains to be seen, but it would certainly add another layer of intrigue to the proceedings in Indy. If he does, it will also be (very) interesting to see how NFL teams treat the move with regard to the all-important mental make-up component that goes into playing the quarterback position at the highest level.