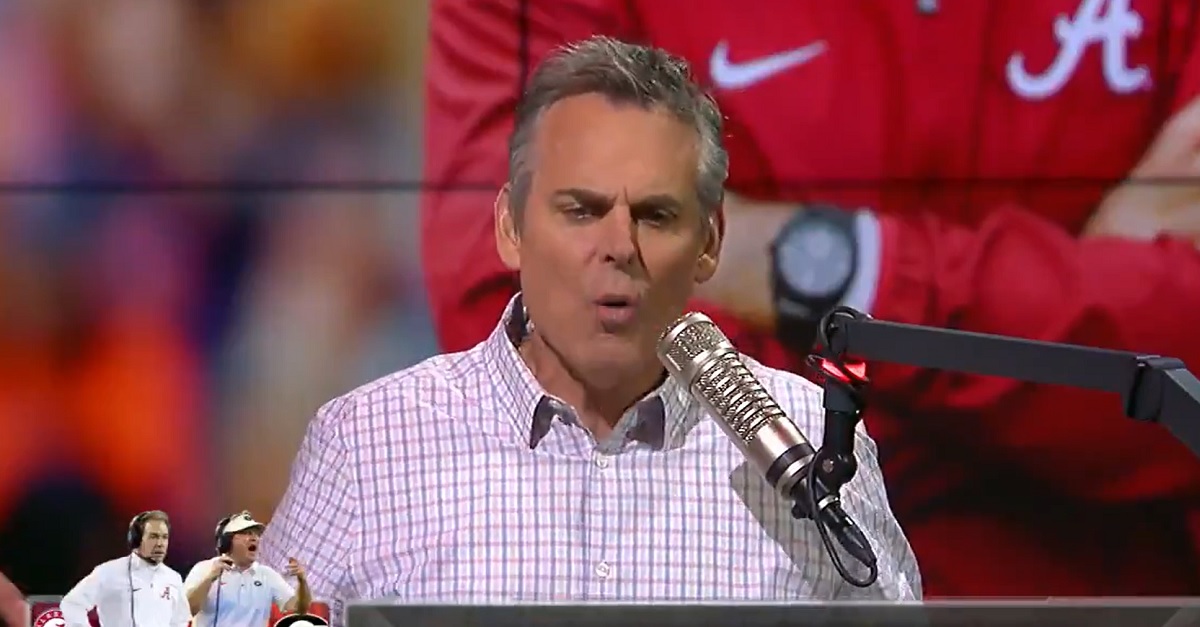 The Herd/Twitter
Colin Cowherd hasn't been shy about criticizing Alabama this year. He picked Auburn to upset the Tide in November, and he's criticized Nick Saban's scheduling in the past.
But Cowherd admitted on The Herd on FOX Sports that Alabama is the best team in the country, and he said they absolutely belonged in the College Football Playoff over Ohio State. He picked them to beat Clemson, and he's picking them again on Monday to beat Georgia for Saban's sixth national championship.
"I was the one that advocated to get Alabama in. People think I'm anti-Alabama, I'm the one that argued," Cowherd said. "Well, the conference, you have to win this and you have to win that,' don't put up qualifiers. Let's get it right. Alabama's the best team, get them in there. I thought Alabama'd beat Clemson. Now, I did think that they had a chance to lose to Oklahoma, but they're not going to lose to Georgia."
Related: Standout Alabama defender done for the season after suffering Sugar Bowl injury
Cowherd said the four best teams made the Playoff, and he said undefeated UCF didn't belong. He said the playoffs don't need to expand, and four is the right number for the college football playoffs.
"Great is rare," he said. "Let's not pretend we need more teams in a Playoff."
Alabama is currently a 3.5-point favorite over Georgia in the title game, and they are in the championship for the third straight season and sixth time under Saban.
If Cowherd's prediction comes true, Saban will have his sixth national title overall and his fifth at Alabama. Kirby Smart is aiming for his first national title as a head coach and Georgia's first championship since 1980.
(h/t SEC Country)