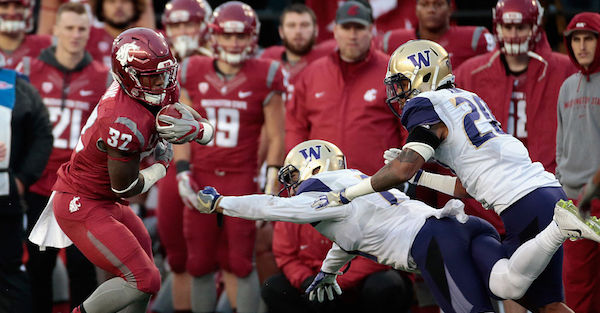 William Mancebo/Getty Images
PULLMAN, WA - NOVEMBER 25: James Williams #32 of the Washington State Cougars carries the ball against the Washington Huskies in the second half of the 109th Apple Cup at Martin Stadium on November 25, 2016 in Pullman, Washington. Washington defeated Washington State 45-17. (Photo by William Mancebo/Getty Images)
A day after Pac 12 North rival Oregon announced it was dialing back its crazy uniforms a bit, Washington State unveiled a series of sleek new uniforms prior to the 2017 season.
Related: Oregon?s crazy jerseys reportedly taking a surprise twist in 2017
The Cougars aren't doing anything too out of the ordinary, but they are wearing a couple of new uniform combinations next season, including these anthracite jerseys with white helmets.
The all anthracite uniform combination is also a nice touch.
The rest of the combinations are updated versions of more traditional looks, but they still look sharp.
The Cougars have won 17 games the last two seasons, and the players are being rewarded with fresh new uniforms.
(h/t CBS Sports)