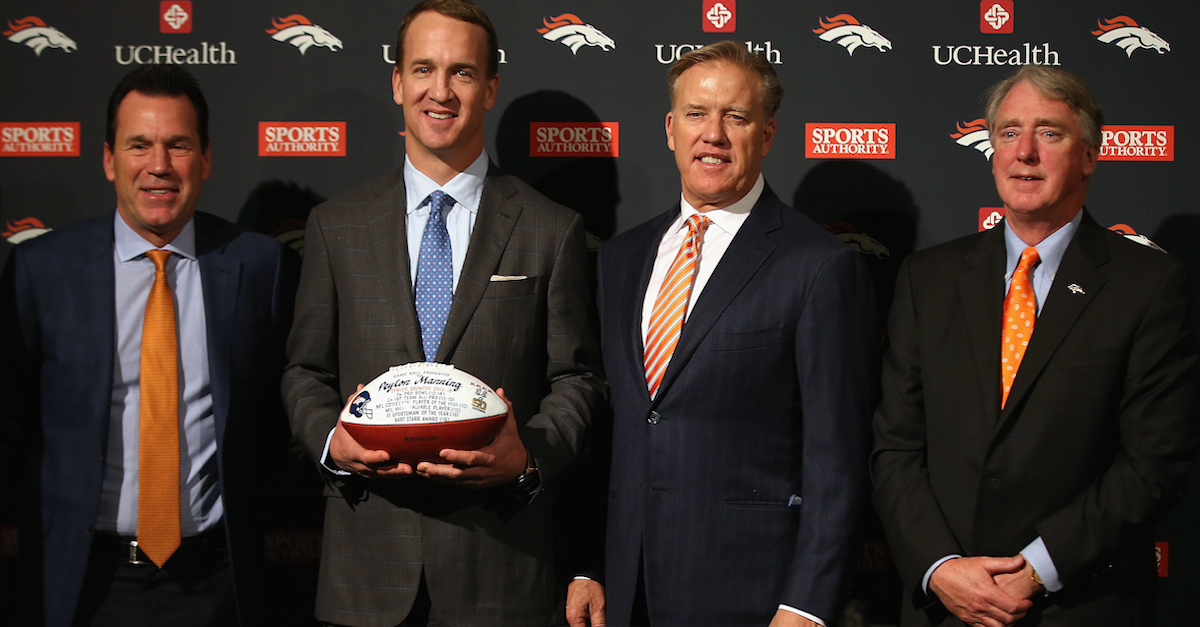 ENGLEWOOD, CO - MARCH 07: (L-R) Denver Broncos Head Coach Gary Kubiak, quarterback Peyton Manning, Denver Broncos Executive Vice President of Football Operations and General Manager John Elway, and Denver Broncos President & CEO Joe Ellis pose for a picture as Manning announces his retirement from the NFL at the UCHealth Training Center on March 7, 2016 in Englewood, Colorado. Manning, who played for both the Indianapolis Colts and Denver Broncos in a career which spanned 18 years, is the NFL's all-time leader in passing touchdowns (539), passing yards (71,940) and tied for regular season QB wins (186). Manning played his final game last month as the winning quarterback in Super Bowl 50 in which the Broncos defeated the Carolina Panthers, earning Manning his second Super Bowl title. (Photo by Doug Pensinger/Getty Images)
This is so hilariously amazing I don't even know where to begin. The Denver Broncos, who have lost two quarterbacks in a week with Peyton Manning retiring and Brock Osweiler heading to the Houston Texans, have decided on who their next quarterback will be. On Friday, 9News in Denver reported that the Broncos acquired quarterback Mark Sanchez from Philadelphia for a conditional draft pick for 2017. Mike Klis first reported the news.
Sanchez, who has been with the Eagles since the 2014 season, played in just a total of four games last season behind quarterback Sam Bradford. Prior to the Eagles he essentially imploded with the New York Jets for four seasons until 2012. He will be remembered fondly in New York for this beautifully catastrophic butt fumble.
https://www.youtube.com/watch?v=82RIfy-gRa4
Congrats on your next quarterback, Denver.