Outside of competing for a national championship, college football players strive for individual excellence.
With these tremendous individual achievements comes higher NFL Draft stock and, among the most elite, the Heisman Trophy. First awarded in 1935 to running back Jay Berwanger, the Heisman Trophy is awarded annually to "the most outstanding player in college football."
The last five drafted Heisman Trophy winners were first-round selections in their respective NFL Drafts. That list includes players like wide receiver DeVonta Smith and quarterbacks LSU's Joe Burrow, Oklahoma's Kyler Murray and Baker Mayfield, and Louisville's Lamar Jackson.
As we approach the start of the 2022-23 college football season, it's time to consider who you should wager on when it comes to Heisman Trophy futures wagers.
Below are our top contenders for the award and one major dark horse. Odds are courtesy of DraftKings Sportsbook.
CJ Stroud, QB, Ohio State (+220)
RELATED: 5 Ohio State Players Who Will Help the Buckeyes Beat Michigan in November
We've already talked about how the Heisman Trophy has become a quarterback award, and Ohio State's CJ Stroud leads the pack regarding betting odds.
Even after losing Chris Olave and Garrett Wilson to the NFL Draft, Stroud heads into this season with top receivers Jaxon Smith-Njigba and Marvin Harrison Jr.
We saw what a Buckeyes squad would look like with Smith-Njigba as the No. 1 option in the Rose Bowl earlier this year, catching 15 passes for 347 yards and three touchdowns.
Throwing for nearly 4,500 yards and 44 touchdowns to only six interceptions last season, we could see those numbers dip slightly with Olave and Wilson out of town. Still, Stroud could add more to his rushing totals, especially in the touchdown department. Last year, Stroud did not score at all on the ground.
So, if Stroud throws for 4,000 yards, 35-40 touchdowns, scampers in for three to four scores and gets Big Ten powerhouse Ohio State back into the College Football Playoff picture, those are Heisman-caliber achievements.
Bryce Young, QB, Alabama (+380)
RELATED: Title or Bust: 5 Alabama Players Poised to Take the Crimson Tide to the CFP
The Alabama Crimson Tide always finds themselves close to the finish line. Last year, however, quarterback Bryce Young and company came up short, losing 33-18 to the Georgia Bulldogs.
Young did throw for 369 yards on 57 attempts but had just one touchdown pass in the game. Like Stroud, Young lost two receivers in the draft — Jameson Willams and John Metchie.
The 6-foot, 194-pound quarterback threw for nearly 4,900 yards last season with 47 touchdowns, but unlike Young, there's no clear-cut No. 1 or Williams-type receiver. The three top wide receivers look like they'll be Jermaine Burton, Tyler Harrell, and Ja'Corey Brooks. Brooks is a bit of a wild card at 19 years old, but his 6-foot-3 frame could make him the next top Alabama receiver.
Young scored three times on the ground, but we expect some regression in the touchdown department. When it comes to picking between Stroud and Young, we side with Stroud as these two battle it out to be the No. 1 overall pick in the 2023 draft.
Will Anderson Jr., EDGE, Alabama (+1500)
RELATED: Key Takeaways from the Preseason USA Today Coaches Poll: Bama On Top, No Love for LSU
Standing 6-foot-4 and nearly 250 pounds, Alabama edge rusher Will Anderson is not only in contention to win the Heisman Trophy but could be the No. 1 overall pick in the 2023 NFL Draft.
In 2021, Anderson had 82 quarterback pressures, which, according to Pro Football Focus, led all players in college football. In those 82 pressures, Anderson had 15 sacks and only failed to record a sack in four games. If Anderson were draft eligible in 2022, it's fair to say he may have gone No. 1 overall ahead of Travon Walker and Aidan Hutchinson.
So why is a player so dominant given +1500 odds?
Truth be told, the Heisman Trophy has become somewhat of a "best quarterback award." Since 2010, a quarterback has won it each year, with 2015 and 2020 being the exceptions. The last time an edge rusher won the award was Leon Hart out of Notre Dame in 1949.
With that historical reference in mind, you could argue that the +1500 should be even longer odds, but Anderson is simply that dominant. For him to win, we'd need to see guys like Stroud and Young have "down" seasons compared to how they typically play, which is in the range of outcomes.
Typically, we'd never advise betting a Heisman future on a defensive player, but Anderson is a generational talent.
Bijan Robinson, RB, Texas (+2000)
RELATED: The 10 College Football Running Backs to Watch in 2022 Are Game-Changers on the Ground
With Quinn Ewers set to take the job under center, the Texas Longhorns could open up even more in 2022, leading to more opportunities for do-it-all running back Bijan Robinson. The last running back to win the Heisman was Derrick Henry in 2015, and this 6-foot 220-pounder could be the next.
On 195 carries last year, Robinson had over 1,100 yards (5.78 yards per carry) and scored 11 times. Robinson also had 27 runs of 10 yards or more. Through the air, Robinson caught 26 passes for 295 yards and four touchdowns.
For Robinson to win the award, the team would need to get Robinson at least 300+ touches in 2022. It's not impossible, but Texas did mix in a few other backs last season. A potential first-round pick, Robinson is one of the best running back prospects in recent memory.
Tyler Van Dyke, QB, Miami (+3500)
RELATED: The 10 College Football Quarterbacks Who Are Must-Watch TV in 2022
Another quarterback, Van Dyke is one of the more intriguing NFL prospects heading into this season.
Standing 6-foot-4 and 224 pounds, Van Dyke has a massive arm, posting average depth of target numbers beyond 10 yards in all but two of his starts, per PFF. Taking over the reins in Week 4, Van Dyke threw for 2,931 yards, 25 touchdowns and six interceptions. Over the last six games of the season, the Hurricanes went 5-1. Averaging over 324 passing yards per start, Van Dyke, over the course of an entire season, would be on pace for over 4,200 yards and 36 touchdowns.
The Hurricanes don't exactly have top-shelf talent, but if Van Dyke can post 4,000+ yards and 40+ touchdowns, that'll massively help his case. What will also assist Van Dyke's rise to potential Heisman prominence is if he can lead the Hurricanes to an ACC Championship.
Also, compared to the likes of Stroud or Young, Van Dyke had more rushing attempts (53) and managed to find his way to the end zone. A culmination of his passing numbers and his raw athleticism to continue those 10+ yard rushes (8) could make Van Dyke a top-10 draft pick and Heisman Trophy candidate.
Tanner McKee, QB, Stanford (+20000)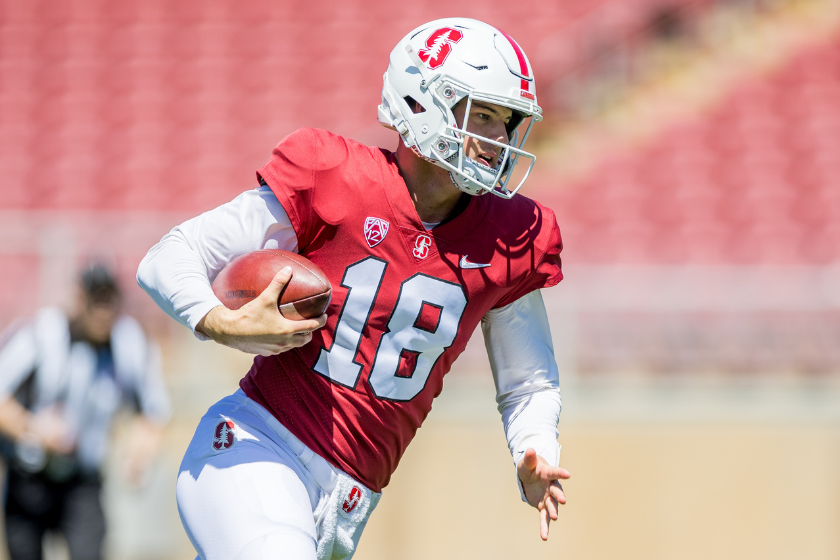 We told you we'd pick a major dark horse, and here he is: Stanford quarterback Tanner McKee.
At 22 years old, McKee is a redshirt sophomore following a two-year LDS mission in Brazil. We know that the Heisman Trophy leans more towards quarterbacks, so McKee has that going for him. McKee is arguably the most NFL-ready of all the quarterbacks in college football, but he's strictly a pocket passer.
In 2021, McKee only threw the ball 315 times for 15 touchdowns. He had some great performances against UCLA and Oregon, throwing three touchdowns in each game. Conversely, he threw two interceptions in back-to-back weeks against Washington and Cal.
McKee can use his eyes to manipulate the defense, and when you watch him, the 6-foot-6, 226-pound quarterback has effortless arm talent that could lead the league in passing. Of course, the team around him lacks the top-end talent like Stroud or Young has.
Nonetheless, you could do worse at +20000 with a potential first-round NFL Draft pick. However, keep in mind that, in the Pac-12 with limited talent, we'll need to see an Andrew Luck-like rise out of McKee in his second season starting for the Cardinal. McKee has faced worse odds before.
Other Heisman Trophy Odds
Caleb Williams, USC - +700
Spencer Rattler, South Carolina - +8000
Jahmyr Gibbs, Alabama - +3300
Dillon Gabriel, Oklahoma - +3000
DJ Uiagalelei, Clemson - +2500
Treveyon Henderson, Ohio State - +4000
Jaxson Dart, Ole Miss - +5000
Jordan Addison, USC - +8000
Anthony Richardson, Florida - +5000
Statistics are courtesy of Pro Football Reference and Pro Football Focus.
Want More Sports News?
Get the biggest and best sports news sent directly to your inbox.