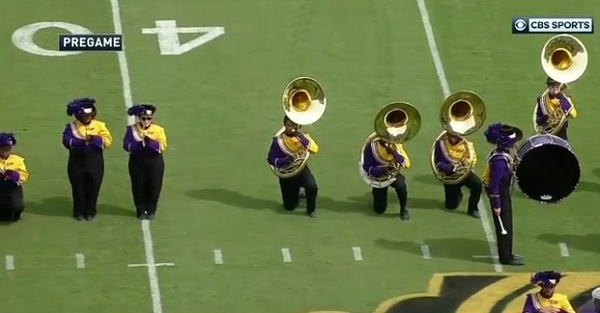 CBS Sports/Screenshot
The East Carolina marching band held a Colin Kaepernick-like protest during last Saturday's game against Central Florida, as 19 members of the band took a knee during the national anthem. Several members of the band, whose responsibility it is to play the anthem, decided not to play it as well.
The school's music department has already come out and said that this behavior won't be accepted in the future, but that is not stopping others in the area from reacting to the protest. According to multiple records, the ESPN Fayetteville affiliate in North Carolina will no longer carry East Carolina's next game in response to the protest.
Fayetteville, NC is the home of Ft. Bragg, and the CEO Jeff Andrulonis of Colonial Media and Entertainment — who owns the FM radio station — took exception to the protests by the East Carolina band members.
RELATED: East Carolina releases harsh statement on band members that protested national anthem
This does seem like a bit of an overreaction, though. Even if you disagree with the band on their protest, this is an action that has literally no effect on them; they aren't the ones who listen to the games on the radio.
East Carolina plays South Florida on Saturday in Tampa.