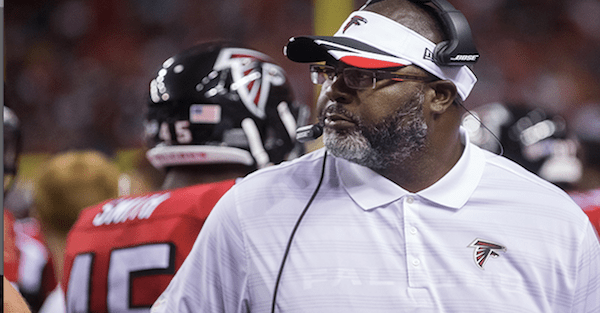 The NFL Scouting Combine has been going on in Indianapolis, In. all weekend and apparently things got a little chippy between an Atlanta Falcons assistant and an Arizona Cardinals scout. According to Pro Football Talk, Falcons defensive line coach Bryan Cox shoved the Cardinals scout at the end of a rookie interview.
Atlanta coaches were interviewing an incoming rookie, and when their allotted time was up with the player, the Cardinals scout, who was set to interview the player next, was waiting outside the interview room to escort the player to meet with Arizona. Cox allegedly shouted some obscenities at the scout and then proceeded to shove him. It allegedly did not escalate further. Cox, who has been on Atlanta's staff for two full seasons, released a statement to Pro Football Talk regarding the incident.
"I intend to apologize to the young man for the incident that happened last night during the interview process,? Cox told PFT. ?It shouldn?t have happened.?
Whoever this player was who was in the middle of the scuffle probably felt just a tad bit awkward. Good for Cox for apologizing, though.