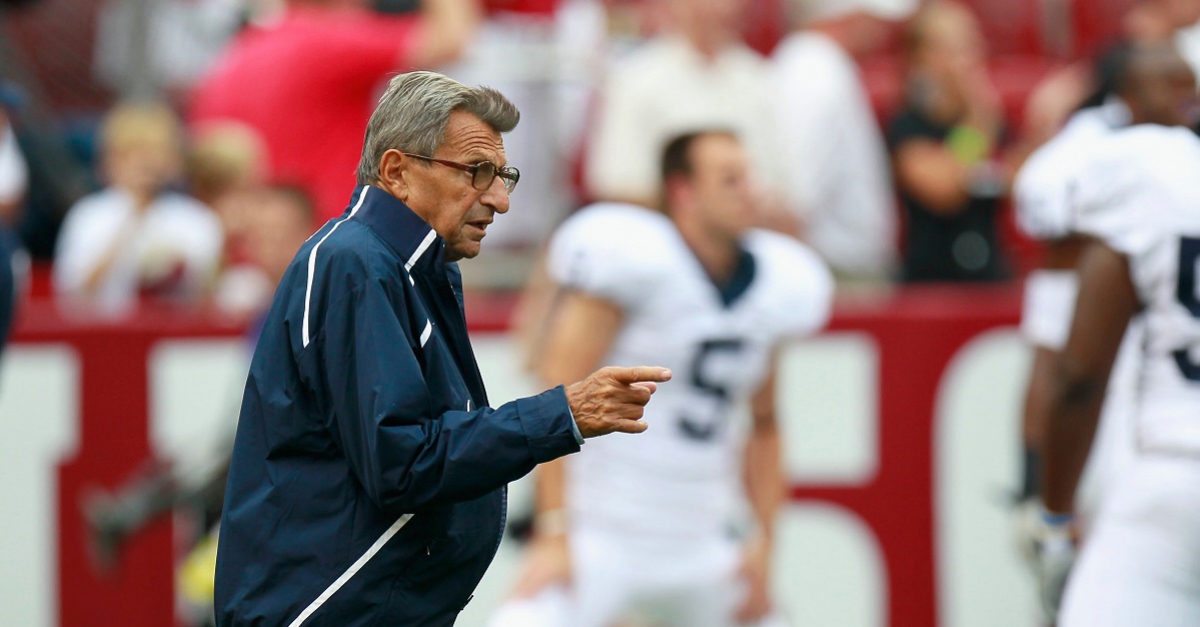 TUSCALOOSA, AL - SEPTEMBER 11: Head coach Joe Paterno of the Penn State Nittany Lions during warmups before facing the Alabama Crimson Tide at Bryant-Denny Stadium on September 11, 2010 in Tuscaloosa, Alabama. (Photo by Kevin C. Cox/Getty Images)
According to former Penn State assistant coach Mike McQueary, via Fox Sports, former Tampa Bay Buccaneers head coach and current Ohio State defensive coordinator Greg Schiano witnessed Jerry Sandusky "doing something to a boy in the shower," in the early 1990s.
That was nearly 20 years before the earth-shattering sexual assault story came out, and Schiano reportedly didn't take what he witnessed lightly.
According to the report, he came "into (defensive coordinator Tom Bradley's) office white as a ghost and said he just saw Jerry doing something to a boy in the shower."
This comes on the heels unsealed court documents circulating that detailed reported coverups of sexual assault allegations from at least four other victims.
According to NJ.com (per Big Lead), Schiano weighed in on the Sandusky allegations in 2011:
"Because of the situation being what it is, I'm not even going to get into it. I'm so far removed. Again, you don't need people making commentaries on things like this. It's just a sad thing."
Schiano later responded to ESPN's Adam Schefter:
Bradley has also responded, per ESPN:
"At no time did Tom Bradley ever witness any inappropriate behavior. Nor did he have any knowledge of alleged incidents in the 80's and 90's. He has consistently testified as such. Any assertions to the contrary are false. When he became aware of the 2001 incident it had already been reported to the University administration years earlier."