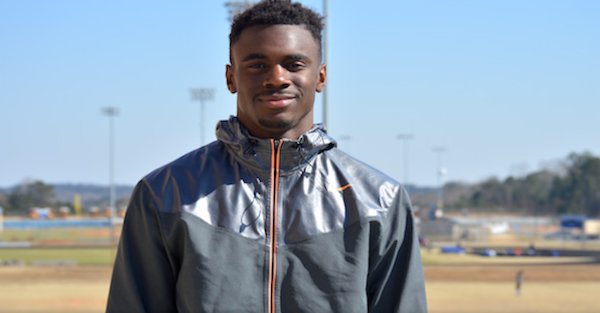 Four-star wide receiver Jeremiah Holloman (6-foot-2, 191 pounds, Covington, Ga.) had a change of heart over the weekend following his attendance of a spring football scrimmage. Holloman watched Georgia football's first spring scrimmage of the Kirby Smart Era on Saturday afternoon. Holloman told the Atlanta Journal-Constitution that a moment he shared with a Bulldog fan made him make Georgia his new leader with schools. Previously Tennessee was his favorite school.
"That fan just started talking to me and then I really just realized it," Holloman said via the AJC. "I kind of just like fell in love. He was giving me comparisons of how I could be a big threat here. He was saying there were a few things I could do to help out the program. He said everyone I talk to says they see A.J. Green in me and how they feel I can be a big help for them."
Holloman named Tennessee as its leader just earlier this month. According to 247Sports, Holloman now is 80% likely to land in Athens. We'll continue to keep you updated on Holloman's recruiting process as it develops.