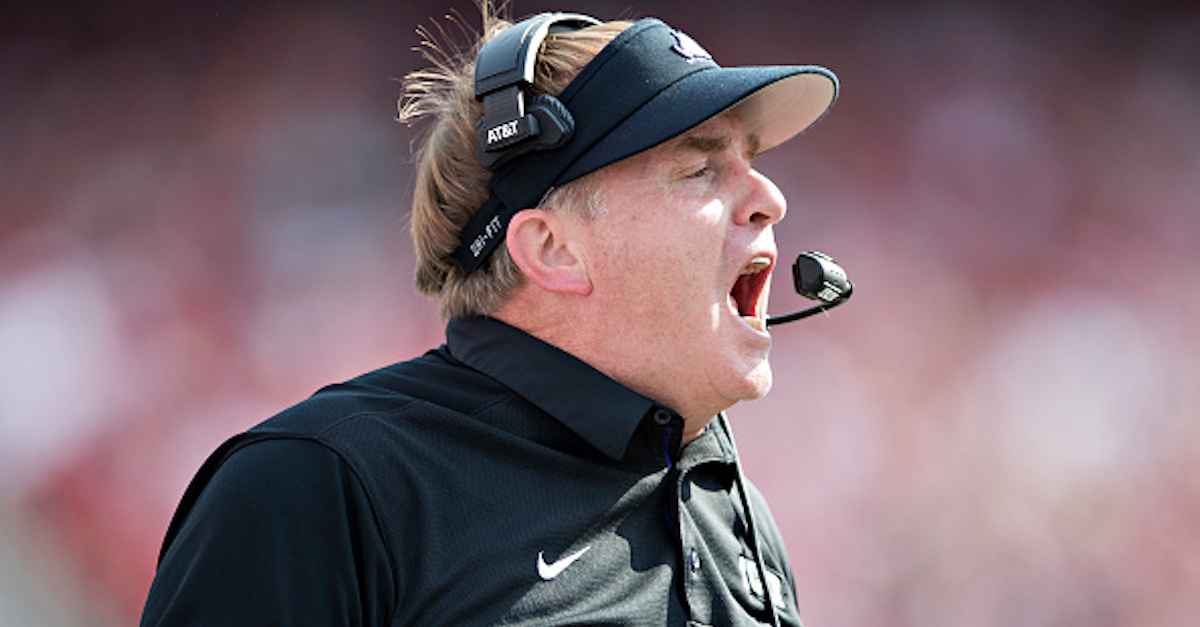 Wesley Hitt/Getty Images
FAYETTEVILLE, AR - SEPTEMBER 9: Head Coach Gary Patterson of the TCU Horned Frogs yells to his team during a game against the Arkansas Razorbacks at Donald W. Reynolds Razorback Stadium on September 9, 2017 in Fayetteville, Arkansas. The Horn Frogs defeated the Razorbacks 28-7. (Photo by Wesley Hitt/Getty Images)
If you haven't heard, Tennessee is in a lot of drama this year with their coaching situation, as it is expected at this point that head coach Butch Jones will be gone at the end of the season.
Tennessee has had a lot of problems with coaches ever since they parted ways with Phillip Fulmer in 2008. There was the disastrous Lane Kiffin year, the two years of Derek Dooley, and now the Butch Jones saga, which appears to be coming to an end.
However, it looks like all of that could have been prevented, as TCU's Gary Patterson hinted in an interview with ESPN that he really wanted the job back after Fulmer was let go.
Via ESPN:
The full quotes:
He interviewed with Nebraska in 2008, when the Huskers hired Bo Pelini, and also interviewed with Tennessee in 2009 after Phillip Fulmer was fired and the Vols hired Lane Kiffin.
"Tennessee didn't think I could handle the big stage," Patterson said. "My wife and I went to dinner with them, and I could tell they had already decided on Kiffin. It was the same with Nebraska. I interviewed and could tell they had already decided on Pelini. I think a lot of these ADs now are more interesting in hiring guys who're going to win the podium than they are in hiring football coaches, and there's a lot more to it than that if you're going to win championships."
Patterson smiled when asked whether he would have taken either the Tennessee or Nebraska job had he been offered.
"It's sort of like the old Garth Brooks song. Sometimes the best prayers are unanswered prayers," Patterson said.
That quote about Tennessee not thinking he could handle the big stage, and instead hiring guys who win at the podium instead of on the field? That has to be a dagger straight to the heart of Tennessee fans.
Patterson has continued to do an incredible job at TCU since he was turned down by Nebraska and Tennessee. Since the start of the 2008 season, Patterson's TCU teams have won 11 or more games six times, including twice since the school joined the Big 12 in 2012. The Horned Frogs could add another season to that list this year, as they are currently 8-1 and are again in contention for a College Football Playoff spot.